BOOK REVIEW
Introducing area-wise schooling system in Bangladesh
S M Rayhanul Islam | Friday, 12 July 2019
---
The education system of Bangladesh has gone through endless experiments. After nearly five decades of our independence even our primary education system is not following any coordinated schooling model. Diverse schooling systems - Bangla & English medium, Madrassa, Kindergarten, and non-governmental organisation-led etc. - are running in a derailed, disordered and undisciplined manner. Class-discrimination and social injustice are becoming acute day by day due to differences in schooling system and curriculum. As a result, schools are hardly capable in fulfilling our national desires and expectations.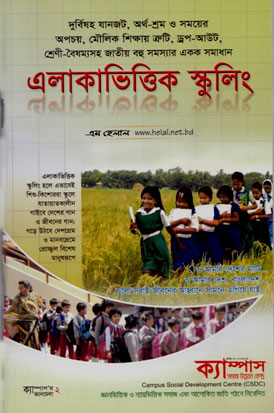 In the book "Area-wise Schooling", Dr. M Helal attempts to present an alternative schooling model which could give a well-coordinated solution to diverse problems including traffic jam, wastage of resources-labour-time, faults in fundamental education, drop-out and social-discrimination etc.
The author draws our attention towards diverse problems and faults in the present schooling system of Bangladesh. Admission of students from one area to a school of another area is a major problem as children lose their energy while being trapped in traffic congestion on their way to a distant school. It is a common scene in Dhaka city that residents of Gulshan, Banani, Mirpur or Uttara admit their children to schools in Siddeshwari or Dhanmondi. Again, students of Siddeshwari or Dhanmondi areas go to the schools of Gulshan or Mirpur areas. Consequently, valuable time, wealth & energy of the students and their guardians are wasted in commuting to and from schools resulting in significant national loss. Moreover, the mothers of school-going children have to spend hours after hours to take their children to school and wait for them at the school premise. The author argues if a mother remains regularly alienated from home for such long hours, she would not get much time & strength for other children or for household activities. This is not only a loss to the family but also a waste of resources of the nation. Local political leaders and powerful people usually do not feel any interest for the development of the schools in the area since their children study in the schools of other areas.
Under the area-wise schooling system, the set up of school education as well as its expansion will be totally area-based. Teachers will be responsible to bring students to school and to return them to their residence. No transportation would be necessary to commute to school; as a result there will be no traffic congestion and road accidents may decrease. Wastage of time & energy of parents and students would be lessened. The author believes that guardians will be serious for the development of the local schools for the sake of their offspring. There will be no dropouts from schools; crime relating to teasing & drugs among adolescents will be uprooted. As discrimination in education system would be lessened, social class discrimination will also be decreased.
The author also discusses how this modern 'Area-wise Schooling' system can be implemented. It will not require taking any tough endeavours or reforms to establish this type of schools. Only the intense will of policy-makers in our government will be necessary. In this regard, the author argues, we could follow Britain or the other developed countries.
Proper rearing of children and flourishing of their brain are not possible by keeping them in traffic, black smoke and dust of the streets. Hence, to build a skilled citizenry and achieve a meritorious nation, our schooling system needs to be restructured. In this regard, 'Area-wise Schooling' system could be an ideal model.
The author Dr. M Helal is a dedicated social organiser and the Founder Chief Editor & Publisher of 'The University Campus', the first ever newspaper on education & youth development of Bangladesh which has been published regularly since 1984. He is also the Founder Secretary General of Campus Social Development Centre (CSDC), a multidimensional welfare organisation working for youth development and knowledge-based just society. The author deserves appreciation for his tireless efforts to produce this well-thought-out creative piece of writing.
S M Rayhanul Islam is an independent researcher.
smrayhanulislam@hotmail.com
--
Elakavittik Schooling (Area-wise Schooling)
by M Helal
Published by Campus Social Development Centre
ISBN: 978-984-33-1645-5