First National Tea Day
Ispahani chairman receives high quality clone tea sapling
Saturday, 5 June 2021
---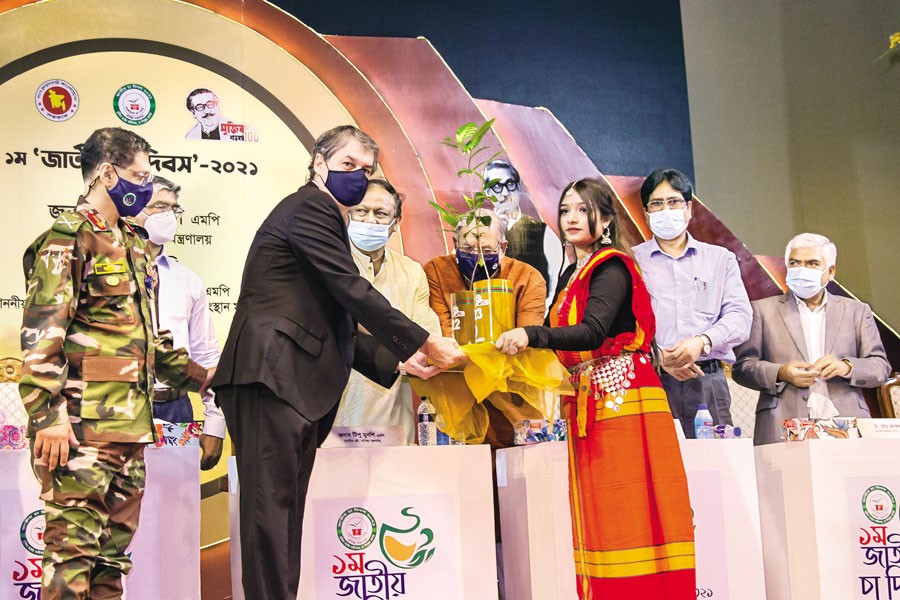 High quality clone tea saplings of BT-22 and BT-23 developed in Bangladesh were unveiled at a programme marking the First National Tea Day 2021 on Friday, says a statement.
The Bangladesh Tea Board orgsnised the event at Osmani Memorial Auditorium in Dhaka.
Mirza Salman Ispahani, one of the leading tea garden owners and Chairman of Ispahani Tea Limited, the leading tea producing and marketing company in Bangladesh, received BT-23 tea sapling from Commerce Minister Tipu Munshi at the programme.
BT-23 is a high quality tea plant variety developed by BTRI, the tea research institute of Bangladesh. This tea variety was developed to promote the production of better quality tea in the tea gardens of Bangladesh in the future.
In recognition of Ispahani's contribution to the tea industry in Bangladesh and the cultivation of this tree variant in Ispahani's tea gardens, seedling of this tree was presented to Ispahani so that they can help increase the quality of tea produced in Bangladesh.
Commerce Minister Tipu Munshi was present on the occasion as the chief guest and Expatriate Welfare and Overseas Employment Minister Imran Ahmed as special guest. Senior Secretary of the commerce ministry Dr. Md. Zafar Uddin chaired the event attended by representatives from the tea industry.