Joypurhat's creeper arum fetches foreign currency
Roving Correspondent | Thursday, 12 September 2019
---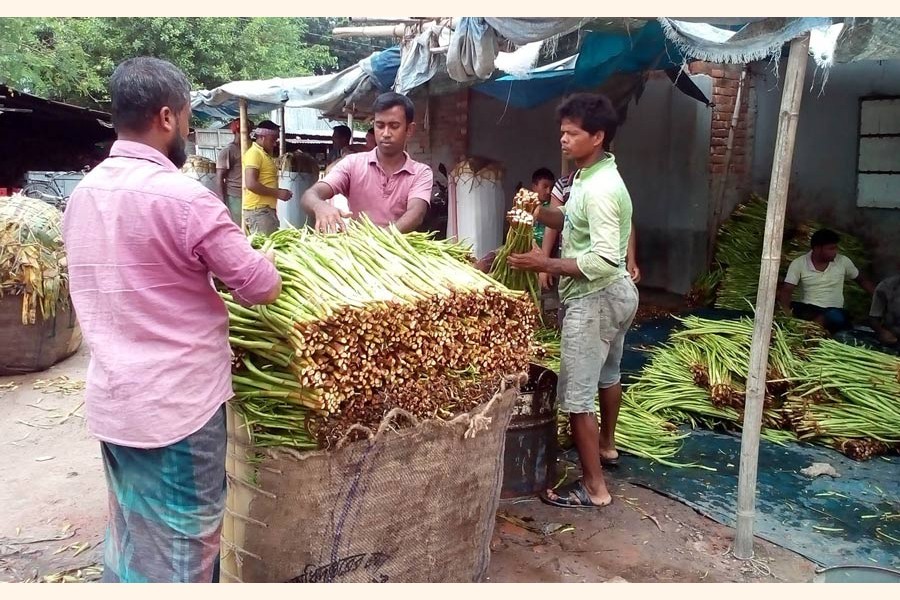 JOYPURHAT, Sept 11: A large amount of foreign currency is being earned by exporting creeper arum from the district.
The wholesalers purchase the vegetable from the growers directly and store it at Bottoly Bazar wholesale market in Pachbibi upazila.
Some peasants in the district said they are expecting around Tk 7,280 million profit this season if they get government support.
They said creeper arum of 6 to 8 cm long is sent abroad. Locally-produced creeper arum is also sent to different district across the country.
Farmer sell creeper arum to the wholesalers at Tk 1800 to Tk 2000 per maund. Its cultivation is expanding across the region as the farmers get high market price.
Good production of the item every year is also encouraging them.
"Traders have been exporting creeper arum produced in Joypurhat district for the last few years due to high market demand", world," said assistant agriculture officer of DAE Radhanath Das.
Many farmers in the area have shifted from T-Aman cultivation to BARI-1 arum farming for high profit, the official said.
"The item is being exported in the USA, the United Kingdom, Australia, England, Canada, Germany, Denmark, Sweden, Middle East and some other countries," he said.
"I cultivated creeper arum on an acre of land spending Tk 90,000. I have made a good profit from the produce as I achieved a good yield," said farmer Afzal Hossain at Pathabuka village.
A farmer has to spend around Tk 18,000 to Tk 22,000 to grow the vegetable on a bigha of land and a profit of Tk 70,000 to Tk 80,000 can be made if the market price is fair, he added.
December to January is the high time to sow the seeds of creeper arum. The farmers can harvest creeper arum after 40 days of it cultivation.
Wholesaler Afzal Hossain said if the authority concerned provides government patronage in the sector, they would be able to expand the business. The government can earn huge profit from the segment, the farmer added.
Farmer Abed Ali of Keshobpur village said he has cultivated arum on 45 decimal of land this season aiming financial self-reliant. He has already made over 0.1 million as profit paying production cost, he further said.
Wholesaler Rony Mondal said around 26 to 27 tonnes of creeper arum is being sent across the county every day with loaded truck from Bottoly bazar. Each kg of the vegetable is being sold at Tk 30 to Tk 40 in the retail markets.
Sub-assistant agriculture officer of DAE Mustafisur Rahman said creeper arum cultivation has brought smile on the faces of many grassroots farmers in the district.
Deputy Director of DAE Sudhindranath Roy said over 1,275 hectares of land were brought under the production of arum cultivation in the district with the production target of 1,300 tonnes.
reporter.fe@gmail.com