Linde's profit plummets on fall in Covid-induced demand for Oxygen
BABUL BARMAN | Thursday, 27 October 2022
---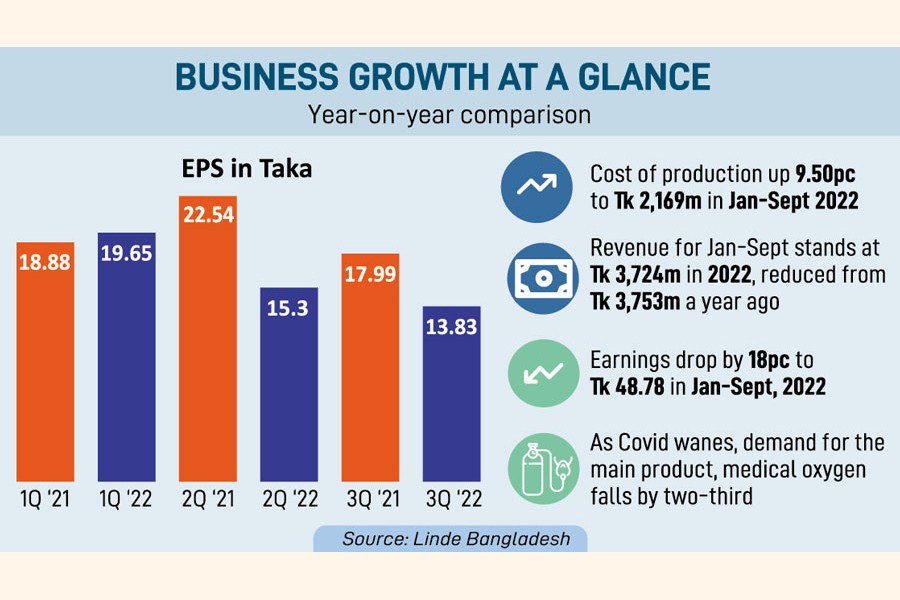 Linde Bangladesh, a leading medical and industrial gas producer, has reported a 23 per cent year-on-year drop in net profits for the third quarter of 2022, driven mainly by a sharp revenue fall in its healthcare segment and higher raw material prices.
The company's net profit stood at Tk 210.54 million for July-September 2022, down from Tk 273.79 million in the same quarter last year, according to its un-audited financial statements.
Costlier raw materials and the volatile foreign exchange market narrowed the profit margin while the demand for medical oxygen, Linde's main product, fell sharply as the pandemic waned pushing down revenue, said Abu Mohammad Nisar, company secretary.
The need for medical oxygen jumped to 70-75 tonnes from 20-25 tonnes as Covid intensified, but the dwindling number of patients in hospitals with breathing distress has brought back the demand to its pre-pandemic level.
As a result, both revenue and profit slumped.
The company's net operating cash flow per share also dropped 17 per cent year-on-year to Tk 36.78 for January-September 2022.
Last year, the company's yearly net profit rose 14 per cent as the demand for medical oxygen shot up.
Listed with the bourses in 1976, Linde Bangladesh's share price was stuck at the floor price, Tk 1,397.70, on Wednesday.
A member of the Linde Group, Linde Bangladesh has been operating in Bangladesh for more than half a century with continuous business expansion.
It is involved in manufacturing and supplying of medical and industrial gases, welding products and equipment as well as ancillary equipment.
Linde Bangladesh's products include liquid and gaseous oxygen and nitrogen, argon, acetylene, carbon dioxide, dry ice, refrigerant gases, lamp gas, medical oxygen, and nitrous oxide.
As a pioneer multinational company in the sector, it has 18 sales centers across the country, serving a customer base of over 35,000, according to its website.
Industry insiders say Linde Bangladesh is the market leader in the production of medical and industrial gases, occupying 90 per cent market share.
Other major companies in the sector are Associated Oxygen, KROL Oxygen, Spectra Oxygen, Median Oxygen Plant, Oxycon, Sima Oxygen and SL Oxygen.
The growth in healthcare, ship-building, real estate and steel rerolling industries helped boost Linde Bangladesh's business, said a merchant banker.
Since the business of the real estate, ship breaking industry and steel re-rolling mills slowed down against the backdrop of emerging economic uncertainties, Linde's profit dropped, he added.
The company's paid-up capital is Tk 152.18 million, the authorised capital is Tk 200 million, and the total number of securities 15.21 million.
Sponsor-directors own 60 per cent stake in the company while institutional investors 28.80 per cent and individual investors 11.20 per cent until September this year.