Local firm brings robotic software 'Robo2Mation' for companies, FIs
FE Report | Monday, 29 April 2019
---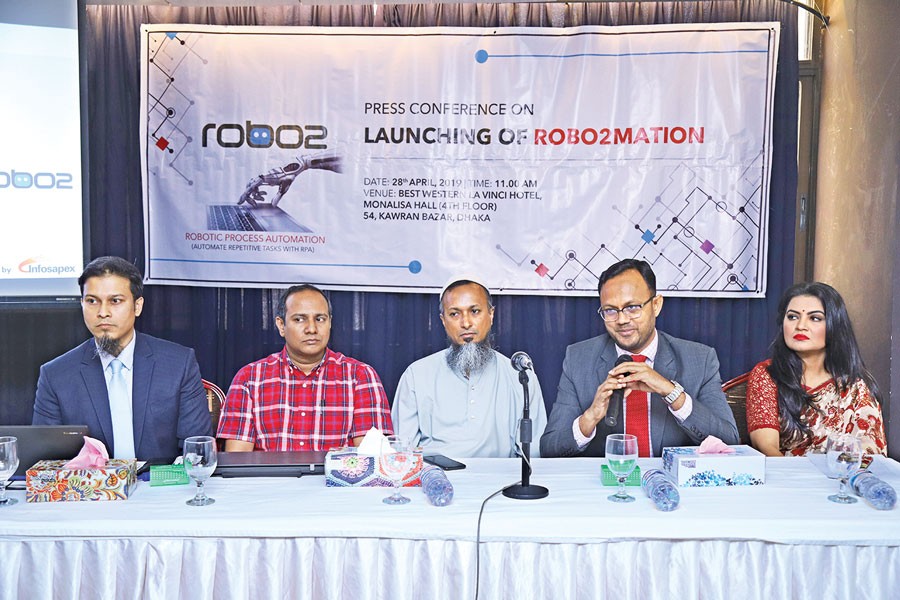 A local technology company has brought robotic process automation (RPA) service or robotic software, for the first time in Bangladesh, aiming to facilitate operations in banks, non bank financial institutions, telcos and other businesses.
The specialised service called 'Robo2Mation', would help ensure faster and reliable operations with diligence and transparency creating scope for maximising profit and improving work-life balance.
The officials of Robo2Mation made the announcement at a press conference, held at a city hotel on Sunday.
Chief executive officer (CEO) and director of Robo2Mation Md Imrul Hasan, its director M H Khusru, head of business operation Showkat Hossain Chowdhury, and head of automation and security Faisal Mohammad attended the press conference.
Robo2Mation is the brand name of RPA service provided by local technology company InfoSapex Limited.
Showkat Hossain Chowdhury made a presentation on Robo2Mation service.
Robotic software is a globally trending technology which helps organizations all over the world overcome their limitations and improve day to day operations, he said.
Robo2Mation is an entirely different kind of robotic software powered by the Artificial Intelligence (AI), which is capable to learn and execute operations of its own, he added.
As a result the robotic software would create more scopes for a staff to concentrate on other activities.
The press conference was said Robo2Mation is a software, that transforms manual data input into digital automated data input.
Organsiations including banks, non bank financial institutions, insurance agencies, telecommunication companies can use the software.
Robotic technologies can ensure necessary transparency and accountability within organizations, as the computer programs cannot associate with corruption, biasness or nepotism.