'Moazzem lived his life wonderfully'
Muhammad Mahmood | Thursday, 1 August 2019
---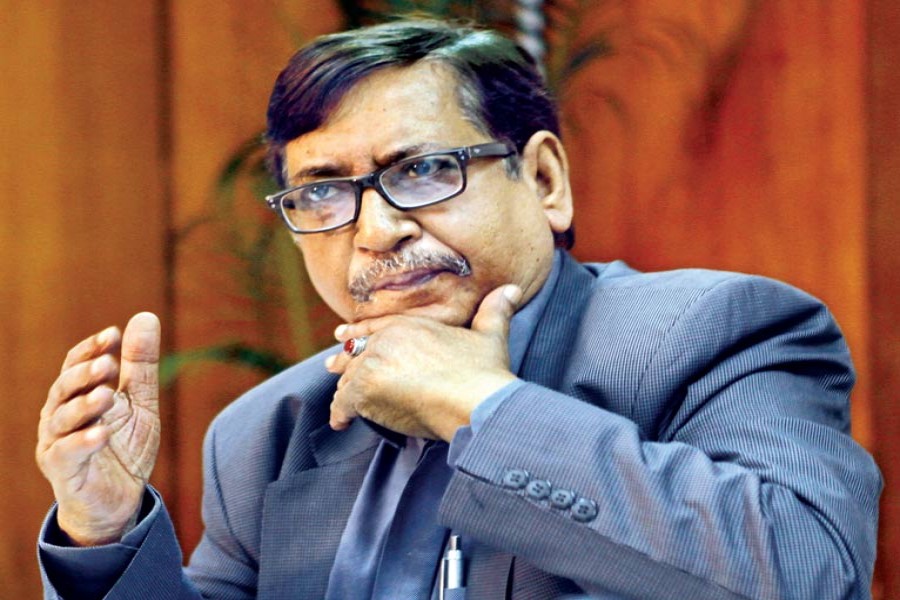 "There is no death daughter, People die only when we forget them'', my mother explained shortly before she left me. ''If you can remember me, I will be with you always''.
Isabel Allende in Eva Luna
''It takes a huge effort to free yourself from memory''.
Paulo Coelho in Aleph
I remember my friend Moazzem Hossain on his first death anniversary with other friends, family members and colleagues and also celebrate his life. He was one the closest friends of mine. Our grief also provides us with the opportunity to connect deeply with another human being. This is essentially the most emotional experience of all human experiences. At the very end, or even before that, in mid-life, when end looms into view, we are only left with memories. He is now closer to us than ever before because there is no more distance or time difference that separates us.
I guess, we are all thinking how sad it is that a man of such talent and capability, above all of such intelligence spirited away before he could achieve more things that he was capable of doing. In a way I like to think of him as the pioneering beacon that beat the path along which fainter souls could follow.
Moazzem Hossain was one of the most talented and original journalists to emerge in post-independent Bangladesh Journalism. His career as a journalist spans over 48 years. He pioneered economic journalism in the country at a time when political journalism was the most coveted one. He turned his economic writings into an art, creating a parallel universe along with other strands of journalism. In fact, he laid the foundation of economic journalism in Bangladesh. He produced a large number of articles on economic issues facing the country, a span of activity unequalled in contemporary economic journalism in Bangladesh. He was truly the doyen of economic journalism and was responsible for grooming a whole generation of economic journalists in the country.
He was the founding editor of the Financial Express, the principal English language financial newspaper in the country. It was his singular endeavour that led to bringing out the financial newspaper. His career as a journalist, he displayed an encyclopaedic knowledge of the issues at hand with singular understanding of the relationship between the journalist and the audience. He did not write polemics. He did not seek to be a player in politics. He did not pursue scoops. He was pre-eminently a stylist in his writings and his proses were written in plain and easily understandable English.
He was also a realist and never mastered the art of mincing his words. He provided his readers a rough draft of history, sometimes it was reassuring, sometimes it was not so or not at all. He could be waspish but never malicious. His columns were never mean spirited about politicians or anyone else. Moazzem retained basic traits of his character to the end of his life - wilfulness, self-confidence, stubbornness and absolute fearlessness. Of no individual, or institution, or group was he in the least in awe, With his formidable knowledge and direct manner, he could appear intimidating to many, in particular to his younger colleagues, but behind that façade was a kind, gentle soul. He was an enormous presence in the newsroom and commanded great respect.
He was a fighter and would plug on even when he was hospitalised with grave illness. He told two friends visiting him at home just before he went to Singapore for further treatment that the visit would not be the last one for them to see him, they would meet again. The disease came upon him fast and hard. He fought the disease hard, he wanted to be with his family, friends, colleagues and all others who knew him. But with characteristic courage and stubbornness, he accepted the medical treatment on his own terms. When he died, he died with dignity and respect.
I met Moazzem in university in our first year and both of us were enrolled in the undergraduate degree programme in Economics. We also shared our dormitory life in the same hall of residence - Salimullah Muslim Hall. Our campus life was intensely politically charged, quite often violent. We both were on the same side of politics, making our bond even stronger. In that environment we were also true comrades.
Later in life he was deeply dismayed to see many people who provided leadership of the student movement on the left side of politics on the campus, how readily they compromised their political principles and quite readily allowed themselves to be co-opted by political forces contrary to their avowed political principles. Such political opportunism just for very ordinary material gains of life also deeply distressed him.
We spent long hours at the university and public library cafes drinking cups of tea. Another regular friend who would also join us was the late Achintya Sen. In that politically charged environment, Achintya was the polemicist who quite often used to give his analytical inputs on the political environment prevailing in the country at that point in time. We three remained very close friends. I always look back with fond memories of my life at Dhaka University and greatly appreciate getting to know Moazzem so well and also as one of my closest friends.
On completion of our degrees, I worked and lived in Dhaka but Moazzem for a short period of time worked and lived in Pakistan. He came back to Dhaka in 1970 and started his career as a journalist which he continued until his death. Between 1970 and 1974, both of us lived in Dhaka, rather incidentally very close by and used to spent a fair amount of time drinking tea at the press club where Achintya Sen would also very often be there to join us. He was always a delightful company. Moazzem had a great sense of humour making us laugh. It was also his laughter that so sublimely fed the aura of joie de vivre that wafted around him.
I left the country towards the close of 1974, initially for two years but turned out to be permanent. Moazzem along with our friend Achintya Sen (then working for the weekly Holiday) were the only two friends came to the airport to see me off. But I always maintained contact with Moazzem and would meet him every time when I came to visit Bangladesh. We used to spend long hours discussing both political and economic issues at home and abroad. He would also tell me his experience of encountering the corporate world which he got to know very well not only as a journalist but also as director member of various financial institutions and industry bodies. He found the corporate world was deeply mired in corruption.
It was during my visit to Bangladesh in December 2015, Moazzem encouraged me to venture into the world of journalism. The idea almost sounded like to reinvent myself as I did not have any experience in that area. I was definitely inspired but also cautious. He tutored me in the art of feature article writing for the newspaper. It was Moazzem who showed me the way and guided me venturing into the whole new brave world of journalism. I owe it to him all, and him alone. I will forever remain grateful to him for this. He was a very kind friend. So sad to see him gone.
I will have unlimited memories of Moazzem. I lost a very dear friend and a very wonderful human being. There is an endearing delicacy around death, languages and words not only go beyond celebrating the life and one's achievements to give hope for the future, but also become the important medium to convey our sense of loss. Moazzem lived his life wonderfully and achieved so many things. He also gave selflessly to the country and society he lived. Moazzem may be gone but we will cherish his memory forever.