MTB Foundation celebrates Int'l Day of Education
FE DESK | Thursday, 26 January 2023
---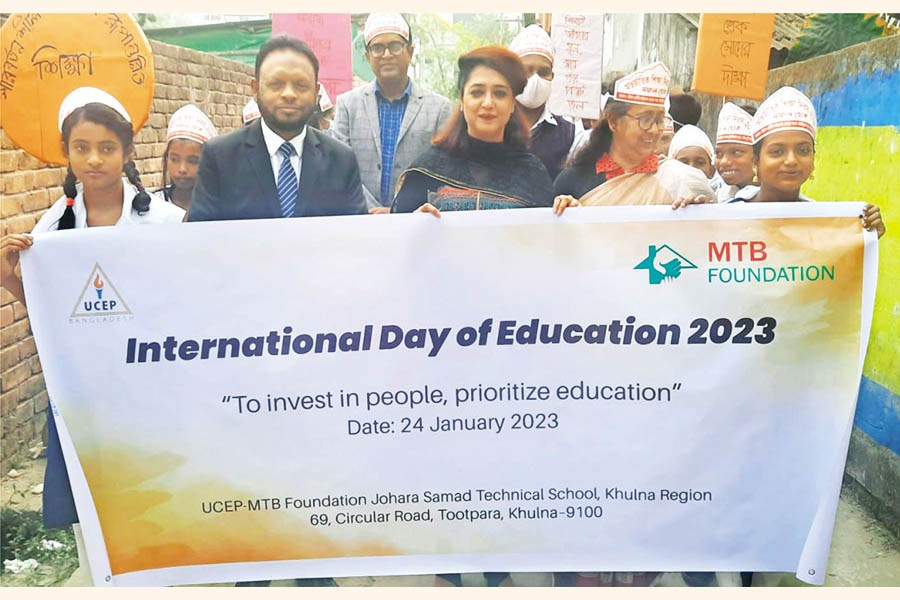 The MTB Foundation has recently celebrated the 'International Day of Education (IDE) 2023', with the theme 'To invest in people, prioritise education'.
The event was organised at the UCEP-MTB Foundation Johara Samad Technical School in Khulna's Tootpara, in the presence of Samia Chowdhury, chief executive officer, MTB Foundation, G.M. Nazrul Islam, branch manager, MTB Khulna branch, and Niaz Fatema Siddiqua, head of Technical School, UCEP-MTB Foundation Johara Samad Technical School, Khulna.
The programme began with a rally attended by the students to emphasise the importance of the special day amongst the community. A quiz competition related to the theme for this year was arranged where the students participated with great enthusiasm, said a press release.
The students got the opportunity to showcase their multifarious talents at the cultural event organised on the school premises. A grand feast for the underprivileged meritorious students was arranged by the MTB Foundation as part of the programme.
When it comes to supporting the education for the underprivileged, the MTB Foundation puts emphasis on Technical and Vocational Education and Training (TVET) as it provides the students with practical skills and knowledge for creating employment opportunities for themselves in different industries in alignment with the demand of the job market.