MTB launches 'Commercial Space Finance' for SMEs
FE Report | Wednesday, 18 September 2019
---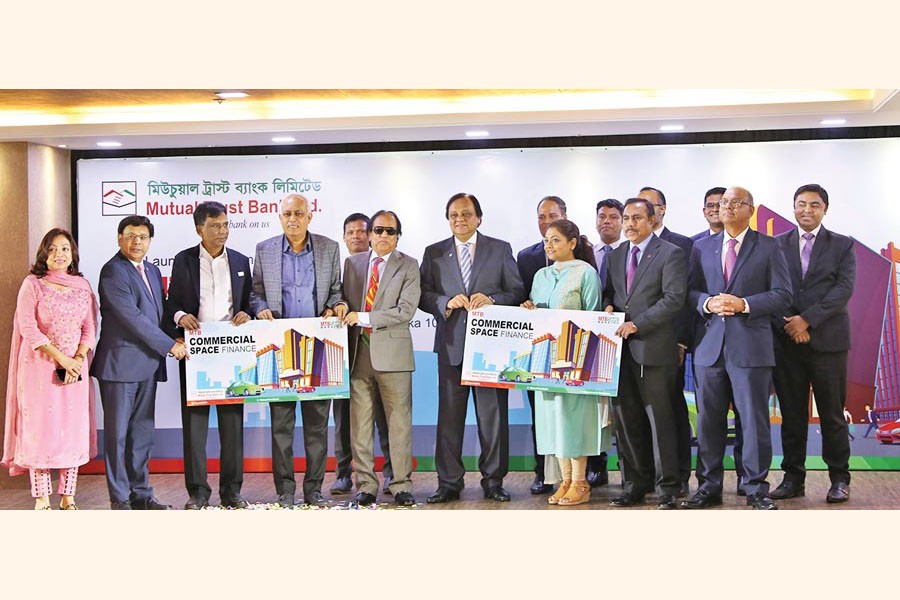 Mutual Trust Bank Limited (MTB), a leading private commercial bank on Tuesday launched a new term loan product styled 'Commercial Space Finance' for small and medium enterprises (SMEs).
The customers can apply for the credit to purchase, construct or renovate commercial spaces to start a business, expanding the venture or taking over an enterprise.
The product was launched at a ceremony held at the Samson H Chowdhury auditorium housed in MTB Tower in the city's Banglamotor area.
Director and former chairman of MTB MA Rouf addressed the programme as the chief guest while Vice-President of Real Estate and Housing Association of Bangladesh (REHAB) Liakat Ali Bhuiyan, former president of REHAB Tanveerul Haque Probal, Deputy Managing Director and Chief Business Officer of MTB Syed Rafiqul Haq also spoke with Managing Director and CEO of the bank Anis A Khan in the chair.
Mentioning that the prices of real estate go up every single day, Mr Rouf said commercial space finance is a scheme that the bank wouldn't have to worry about at all.
"However, interest rate of the financing will be a big factor so that the authority of the bank should seriously keep that in mind," he suggested.
Appreciating the introduction of the new product by MTB, Mr Liakat said financing in real estate sector is totally risk free; so, the bank should keep the interest rate within the capability of businesses specially SMEs.
In a presentation, unit head of SME Banking Division of MTB Rokibul Hasan Chowdhury said the lending for the commercial space would be equity basis, of which the customer will have to pay 30 per cent and the bank will finance the rest 70 per cent.
The ceiling of the loan is set from Tk 5.0 million to Tk 100 million payable in one to 12 years term.
Citing Bangladesh Bank data, he noted that the total outstanding loans in real estate sector from banks and financial institutions stood at Tk 815.2 billion as of June, 2018.
Mr Chowdhury also said the real estate sector contributes more than 7.0 per cent to the country's GDP that has made it a potential sector to offer loans.
While asked about the interest rate of the loan, Mr Chowdhury said, "The bank will offer the credit at a competitive interest rate considering the market trend and business profile of the customer."
They will mostly compete with several non-banking financial institutions (NBFIs) as commercial banks haven't been offering such financing scheme yet, he mentioned.