Muhith calls for global support to attain SDGs
Many countries are working with own resources and some of them 'have done really well'
---
FE Report | Wednesday, 25 October 2017
---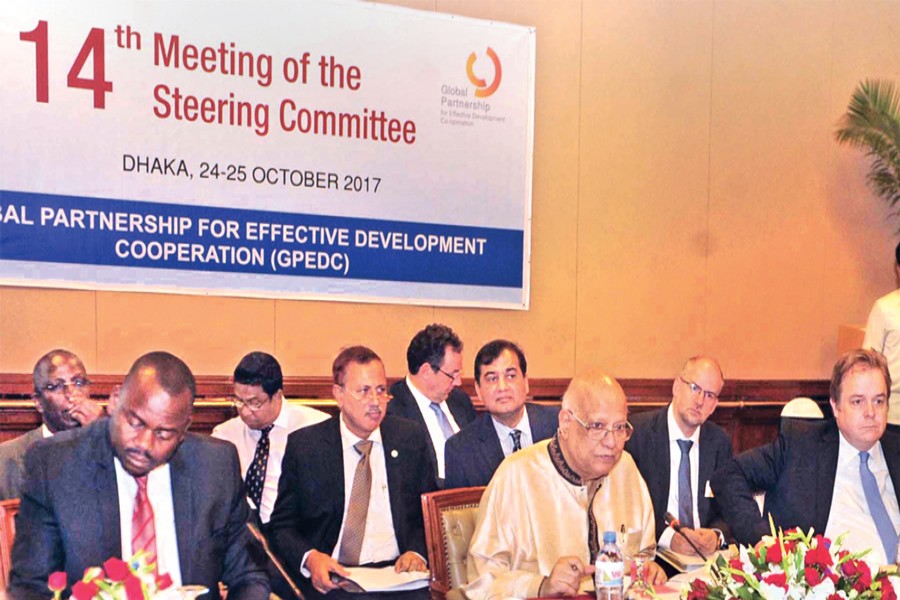 Finance Minister AMA Muhith urged the global community to come forward with extended support for the poor and developing nations in a bid to achieve Sustainable Development Goals (SDGs).
"We need huge investments for attaining SDGs. If the global development partners do not extend their support, it will be difficult for us to achieve the goals," he said while speaking at an inaugural session of the Global Partnership for Effective Development Cooperation (GPEDC) steering committee meeting in Dhaka on Tuesday.
Facilitated by the Economic Relations Division (ERD) of the Ministry of Finance, the Global Partnership Forum organised the 14th GPEDC steering meeting where 162 countries and 56 development partners took part.
Mr Muhith, however, called on the developing countries to reduce their dependence on the foreign aid and suggested utilising their own resources for achieving SDGs.
He said different international communities have hailed Bangladesh for its better performance in achieving Millennium Development Goals (MDGs), which has been possible due to the country's strong commitment.
The finance minister said: "The process of getting foreign assistance sometimes becomes quite complex. That's why many countries are working with their own resources for attaining their goals. Some of them have done really well."
The United Nations has formulated the SDGs where all the countries want to be a hunger-free improving their economy, health and sanitation, education etc.
ERD secretary Kazi Shofiqul Azam and its additional secretary Monwar Hossain, among others, also spoke at the meeting.
The GEPDC is a global platform to advance the effectiveness of development efforts by all actors to deliver results that are long-lasting and contribute to the achievement of SDGs.
It supports and ensures accountability for the implementation of shared principles and differentiated commitments at political level. It contributes to strengthening of the global partnership for sustainable development.
Realising the 2030 Agenda for SDGs, the countries across the globe require mobilisation and effective use of all types of development resources.