New US visa policy supports PM's fair poll pledge: Momen
FE REPORT | Friday, 26 May 2023
---

Foreign Minister Dr AK Abdul Momen has asserted that the recently unveiled US visa policy embodies Prime Minister Sheikh Hasina's commitment to conducting fair polls.
US Ambassador to Bangladesh Peter Haas termed the new visa policy as merely the US way of supporting the democratic electoral process in Bangladesh.
While briefing reporters at the foreign ministry on Thursday, Momen said, "It [the new visa policy] strengthens her [the prime minister's] cause."
"The Awami League stands as the vanguard of democracy in this country and the party has governed through democratic means over the past 15 years," the foreign minister added.
"Our Prime Minister is determined to hold a transparent, free and fair election and to ensure that, her government has taken all the necessary measures," he said.
"But to hold a violence-free election, cooperation from all political parties is crucial and the US in its announcement has echoed the same," Dr Momen said.
While responding to a question, he said that there is no cause for concern regarding the newly announced US visa policy and the government does not feel any pressure or uneasiness.
On the contrary, this announcement will encourage opposition parties to refrain from pre-election violence, he noted, adding that it will not create any tension between the two countries.
"Our relationship with the US is excellent," he said.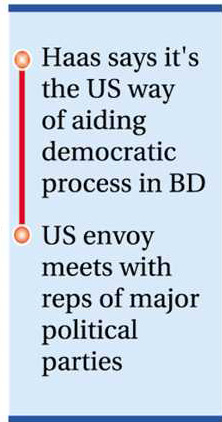 The foreign minister said he was informed about the new policy through a letter from the US Secretary of State on May 3, and the tone of the letter was highly positive.
The letter stated that the new visa policy supports Prime Minister Hasina's commitment to holding free and fair elections in Bangladesh, the foreign minister added.
Describing the letter he received from the US Secretary of State as highly encouraging, Momen commented that the Bangladesh Awami League is committed to holding a free and fair election.
He mentioned that Prime Minister Sheikh Hasina wants free and fair elections and this policy will further strengthen her position. Later on Thursday, US Ambassador to Bangladesh Peter Haas met with the foreign minister.
The US ambassador to Dhaka said that the recently announced visa policy is a demonstration of the United States' commitment to supporting the democratic electoral process in Bangladesh.
Ambassador Haas said that this is something they have done in support of the Bangladeshi people, the Bangladesh government and Prime Minister Sheikh Hasina herself and everyone here in Bangladesh who support a free and fair election.
The ambassador said he has discussed the new visa policy, along with other topics, with the foreign minister.
Earlier, the US ambassador met with representatives from major political parties to discuss the new US visa policy. Representatives of the Awami League, Bangladesh Nationalist Party, and Jatiya Party were present.
"We support free and fair elections. The new visa policy to restrict visas to those who undermine the democratic process applies to everyone," said Ambassador Haas.
[email protected]