Non-RMG sectors need 'aid, policy support'
Export diversification to handle post-LDC hurdles
---
FE REPORT | Thursday, 8 July 2021
---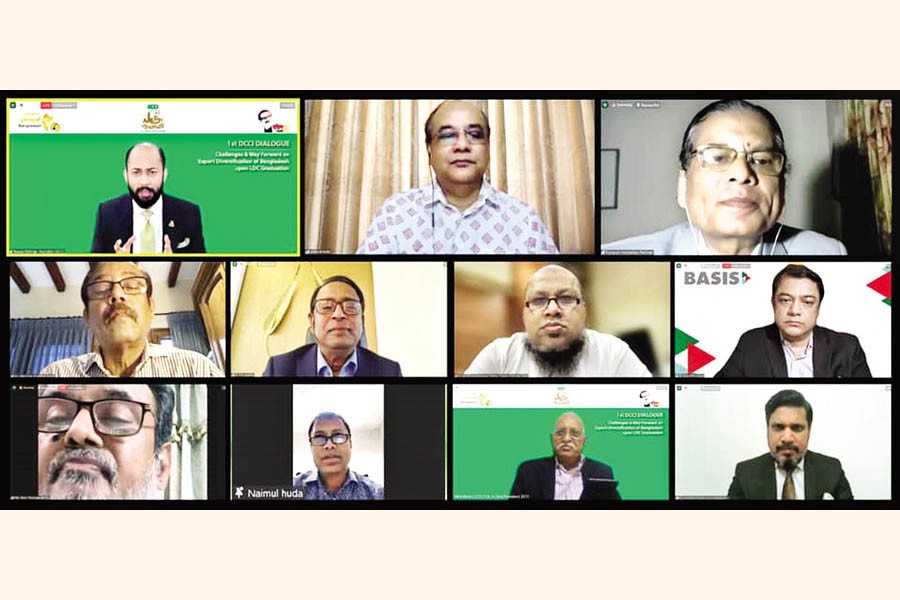 Speakers at a programme on Wednesday said long-term and low-cost finance, policy reform, and incentives are required for non-RMG sectors to diversify the country's export basket to cope with post-LDC challenges.
They also called for equal treatment of the non-RMG sectors to encourage export as well as developing ample sector-specific skilled workforce to meet soaring demand.
They said these at a virtual dialogue - "Challenges and way forward on export diversification of Bangladesh upon LDC graduation" - organised by the Dhaka Chamber of Commerce and Industry (DCCI).
Vice Chairman and CEO of Export Promotion Bureau (EPB) A H M Ahsan was the chief guest of the programme, presided over by DCCI President Rizwan Rahman.
Centre for Policy Dialogue (CPD) Distinguished Fellow Professor Dr Mustafizur Rahman, Leathergoods and Footwear Manufacturers and Exporters Association of Bangladesh (LFMEAB) President Md Saiful Islam, and Bangladesh Engineering Industry Owners Association (BEIOA) President Md Abdur Razzaque, among others also spoke.
Dr Rahman said RMG sector has become a success model for the country due to proper policy support as well as good coordination between the government and the entrepreneurs concerned.
Now it is the high time to focus on other potential non-RMG sectors, like - agriculture, pharmaceuticals, light-engineering, ICT, leather goods and jute.
Referring to 70 per cent of the country's total export under preferential market access to different countries and region, he opined that the authorities concerned should make the local regulations compliant with the World Trade Organisation (WTO) to deal with the post-LDC challenges.
In that case industry readiness is more important, he said, adding: "Our labour may be cheap, but we need to make the workforce productive."
The CPD distinguished fellow also suggested the businesses and different departments of the government to increase their legal capacity, as after the LDC graduation commercial disputes might increase manifold.
Meanwhile, the DCCI president, in his opening remarks, said after the LDC graduation, Bangladesh would be deprived of many international supportive measures as well as face different tariff and non-tariff-related challenges.
"After the graduation, our small- and medium-scale industries like jute, agro-processing, leather, footwear, pharmaceuticals, light-engineering and ICT will face massive global competition."
Besides, the country would also have to deal with various challenges in the international market, like - maintaining product quality, adopting changed consumer behaviour, cost of research and innovation, etc.
"We have five more years of breathing time, and by this time we need to make our industries ready to face the challenges of post-LDC period," Mr Rahman added.
The EPB CEO said the government is taking necessary strategies for smooth and sustainable LDC graduation.
Not only product diversification, Bangladesh needs to focus on geographical diversification other than USA and European markets as well to increase its export.
Referring to over 81 per cent of the country's export earning coming from RMG sector, he also said, "After the LDC graduation, we cannot rely only on one specific sector. So we have to apply RMG success model for other promising sectors."
The LFMEAB president said after 2026, Bangladesh may not get low-cost fund from the development partners, which would increase cost of fund for private sector.
Proper study is required to analyse skill gap and create skilled labour force for different potential sectors.
"We have to go for energy-saving, raw material-saving and cost-saving industrial production mechanism," he opined, urging for policy support to strengthen backward linkage industry.
Bangladesh Association of Software and Information Services (BASIS) President Syed Almas Kabir, Sonali Aansh Industries Limited Managing Director Mohammed Mahbubur Rahman Patwari, Incepta Pharmaceuticals Ltd General Manager Naimul Huda, and ACI Mobility, Plastic and Agribusinesses Managing Director and CEO Dr F H Ansarey also spoke at the programme.
Mentioning that about 80 per cent of drugs, exported from Bangladesh, are off patent and 20 per cent are patented, Mr Huda said, "After the LDC graduation, we have to be compliant with the global standard regarding patent-related issues."
However, Bangladesh would enjoy patent-free production facility up to 2033 as per the WTO decision, he also noted.
To make the country sufficient in pharmaceutical ingredient production, he stressed on completing the proposed API park in Munshiganj as soon as possible.
Mr Kabir said export from the country's ICT sector is more or less US$ 1.0 billion. But due to lack of payment mechanism like 'PayPal', it is hard to properly track earnings from the sector.
Seeking incentive for the sector, he hoped that after the LDC graduation Bangladesh would no longer be known as a country of cheap labour; rather local businesses would achieve negotiating ability.