Pharma stocks shine amid rising Covid-19 cases
Babul Barman | Tuesday, 24 March 2020
---
Prices of some disinfectants and chemical stocks are soaring as investors are anticipating brisk business amid rising coronavirus cases in Bangladesh.
Shares of Central Pharma, ACI Formulations and ACI Ltd have witnessed their price surge in the last three sessions amid bearish market.
ACI Formulations and ACI which supply hexisol and hand wash jumped 25 per cent and 20 per cent respectively in the past three straight sessions.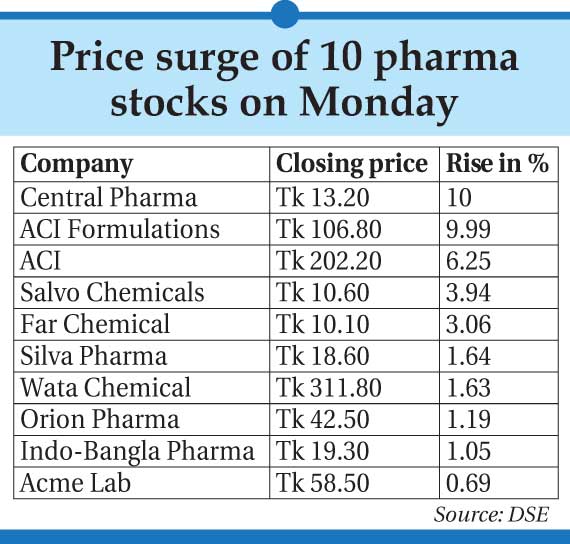 "People are buying such goods as experts suggest people to keep their hands germ-free to prevent coronavirus," Khairul Bashar Abu Taher Mohammed, CEO of MTB Capital, told the FE.
Mr Bashar, also former secretary general of the Bangladesh Merchant Bankers Association, said the rise in the share price of pharmaceutical and chemical stocks is obvious because of their thriving demand.
He noted that the spread of the novel coronavirus has led global investors to rush for pharmaceutical stocks, on the back of rise in demand of their products.
People familiar with the matter said the pharma sector is tracking gains from the overseas trend, amid the virus scare that has infected over 349,676 people and caused more than 15,300 deaths globally until Monday.
The official deaths toll from coronavirus is now three and total infected stands at 33 in Bangladesh as one more death and six new cases were confirmed on Monday.
In the past three sessions, the Central Pharma's share price jumped 33 per cent as temporary suspension of the license of production of few drugs of the factory is withdrawn on Sunday.
The prices of Central Pharma, ACI Formulations and ACI Ltd were the Monday's top gainers, soaring 10 per cent, 9.99 per cent and 6.25 per cent respectively.
Extending gains for the third straight session, shares of these stocks were trading higher amid rising demand of their products like generic drugs, hexisol, hand sanitizers etc.
Prices of 14 pharma & chemicals issues soared, only three declined and 15 remained unchanged on the Dhaka Stock Exchange on Monday.
The pharma sector also captured nearly 37 per cent of the day's total turnover.
A leading broker said majority portion of imports on raw materials from China could lead to higher raw material prices putting pressure on the margins for at least the next two quarters.
He noted that if the situation worsens, there could be acute shortages of medicines and higher drug prices.
Experts also suggested that drug costs are likely to stay overpriced as Bangladesh mostly depend on China for raw materials.
However, recently China has reported no new locally transmitted Covid-19 cases for the first time since the pandemic began, marking a major turning point in the global battle to contain Covid-19.
Most large pharma companies have raw materials inventory for up to four months, said a top official of a listed drug maker requesting anonymity.
"If the coronavirus problem prolongs for five to six months it will definitely impact our business," he added.