Diesel, kerosene prices Tk 114 per litre, octane Tk 135, petrol Tk 130
Prices of all fuel oils raised
New prices take effect from Friday midnight
---
FE Report | Saturday, 6 August 2022
---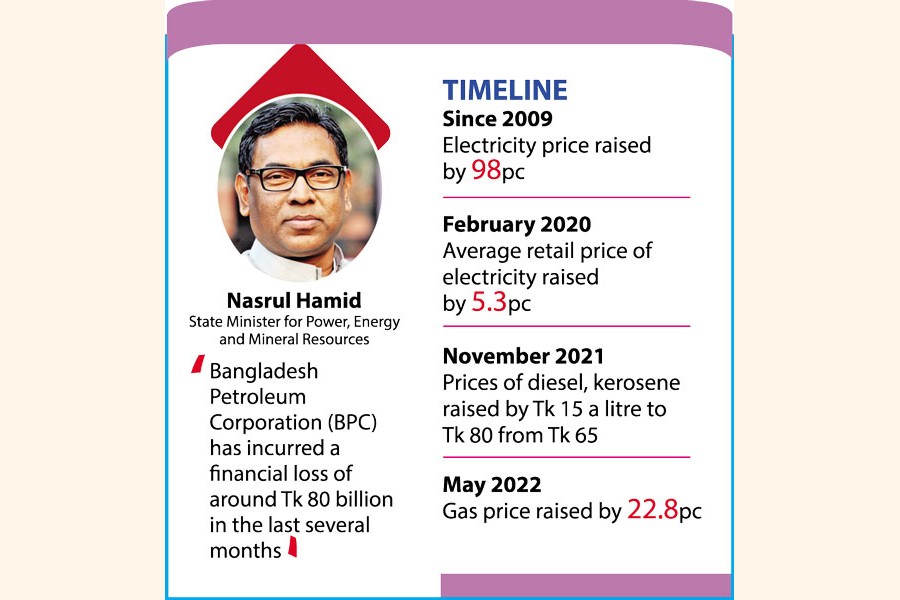 The government raised prices of all fuel oils on Friday with effect from midnight.
Diesel price was raised by Tk 34 to Tk 114 per litre, octane by Tk 46 to Tk 135 and petrol by Tk 44 to Tk 130.
The raised price of kerosene now stands at Tk 114.
The Ministry of Power, Energy and Mineral Resources issued a notification to this effect on the day.
Earlier on the day, State Minister for Power, Energy and Mineral Resources Nasrul Hamid said a further hike in the price of electricity is likely as he hinted at readjusting the tariffs to global price rises.
"We are thinking about readjusting the tariffs of power and oils in line with their global prices," he told reporters at his Baridhara residence.
He dropped the hint at a time when businesses were expressing their serious concern over the ongoing power outage, which is badly impacting industrial production.
The government has resorted to staggered load-shedding of power under a national austerity plan induced by high prices of the primary energy like gas and oil amid a double whammy of pandemic and Ukraine war that disrupted supply chains.
About power-price raise, the state minister said the issue is under jurisdiction of the Bangladesh Energy Regulatory Commission (BERC), which has almost completed the process after holding public hearings.
"It might come up with a decision in this or next month. Besides, respite from the prevailing load-shedding is likely from the next month.
"Like the electricity price, the prices of fuel oils and gas need to be readjusted with the global prices."
Because of the surging prices of fuel oils on the international market, the Bangladesh Petroleum Corporation (BPC) has incurred a financial loss of around Tk 80 billion in the last several months, Mr Hamid notes.
The BERC last increased the average retail price of electricity by 5.3 per cent in February 2020.
The electricity price had been raised by 98 per cent since 2009, when the incumbent government had assumed power.
The government last May hiked the gas price by 22.8 per cent, raising the tariff for a single-burner stove by Tk 65 to Tk 990 and a double-burner by Tk 105 to Tk 1,080.
In November 2021, the government increased the prices of both diesel and kerosene by Tk 15 a litre to Tk 80 a litre from Tk 65 a litre.