Prices up far ahead of Ramadan
Import dearth, hoarding key reasons for essentials' price hike
---
YASIR WARDAD | Saturday, 28 January 2023
---

Prices of essentials hugely consumed during Ramadan have registered a notable rise in a week, almost two months ahead of the fasting month, said market insiders.
Import crunch of goods amid upheaval on the dollar market and the hoarding of goods by a section of traders are the key reasons for such price hike, they added.
Prices of sugar, edible oils, wheat flour, chickpea, khesari, ginger, garlic, cumin seed, red chilli, potato, broiler chickens, beef and mutton further rose by 5.0 to 15 per cent in a week, according to the Trading Corporation of Bangladesh (TCB) and city groceries.
Sugar price witnessed Tk 10-15 a-kg further hike, and sold at Tk 120-135 a kg on Friday - although the refiners fixed the price at Tk 107-112 a kg on Thursday.
The new price would be effective from February 1, according to a press release of Bangladesh Sugar Refiners Association (BSRA).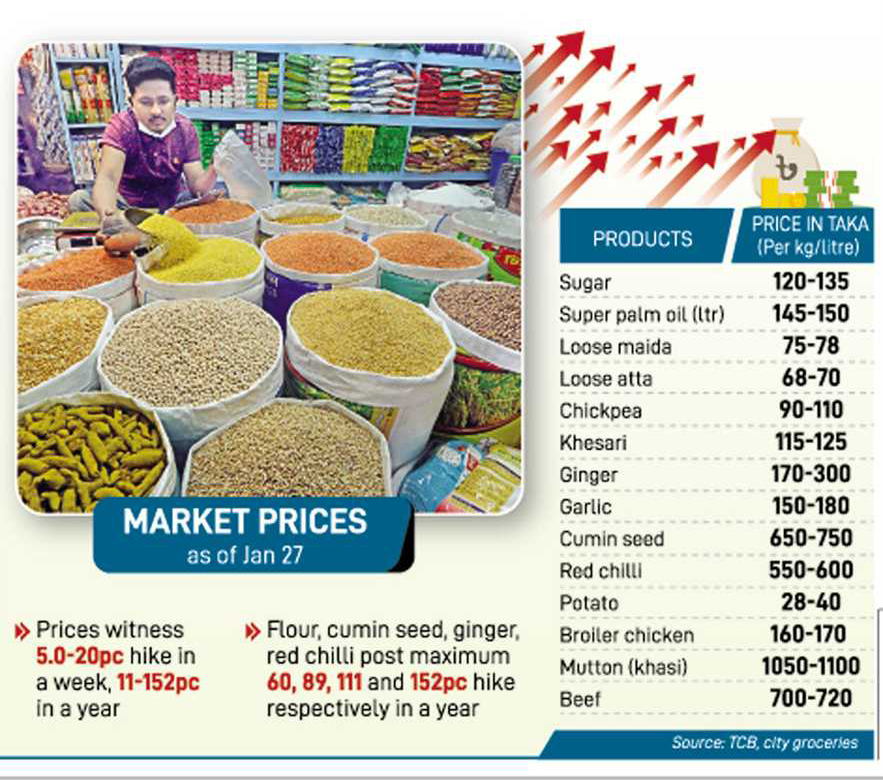 Super palm oil, the widely consumed edible oil by millions of restaurants and households across the country, showed Tk 6.0-7.0-a-litre hike, as it was retailed at Tk 145-150 a litre on Friday against the government-fixed price of Tk 123 a litre.
Imported Chinese ginger price hit Tk 280-300 a kg and local ginger price reached Tk 170-190 a kg - marking 10-12 - percent further hike, according to TCB.
Garlic witnessed 6.0-8.0 - percent further hike, according to market sources.
Cumin seed reached a record high of Tk 700 a kg, red chilli Tk 600 a kg, and chickpea Tk 90-110 a kg - depending on quality.
Mutton price hit a record of Tk 1,100 a kg at Kaptan Bazar in the city on Friday.
TCB data showed mutton, beef, chickpea, khesari, garlic, cumin, sugar, flour, ginger, and red chilli prices 11 per cent to 152 per cent higher now than a year ago.
Flour, cumin seed, ginger, and red chilli prices witnessed maximum 60-per cent, 89-per cent, 111 per cent, and 152-percent hike respectively in a year, it added.
Md Belal Hossain, a Shankar-based grocer in the city, said distributors have reduced supply of flour, loose edible oils, sugar, chickpea, and khesari notably for the last two weeks.
"They are giving us only 30-40 per cent of the ordered products despite our offers to pay in advance," he added.
Md Golam Mawla, former secretary of Dhaka-based Moulvibazar Wholesale Merchants Association, told the FE that supply of edible oil is still ok, but there is a shortage of sugar.
"Oil refiners have to continue the current supply for the next two months to ensure smooth supply of the item during the fasting month - set to start in the last week of March."
He said the refiners are not giving sugar in time, and most of the traders in Moulvibazar have only 40-50 per cent of sugar against its actual demand.
A refiner of sugar, edible oil, and wheat flower said imports of sugar and edible oils declined notably in this financial year (FY), 2022-23, amid the dollar shortage as well as their rising global prices.
Sugar prices showed minimum 10-percent hike in last one month on the international market, and the existing high import duty is still unchanged. Banks are not providing necessary dollar to traders to open L/Cs, he added.
According to the Chattogram Customs House (CCH), sugar import fell to 0.139 million tonnes in July-November period of the current FY, which was 0.315 million tonnes in the same period of FY 22.
Import of edible oils, including soybean and palm oil, decreased to 0.645 million tonnes during the period, which was 0.94 million tonnes in the corresponding period of FY 22.
Import of chickpea and other peas declined to 0.21 million tonnes from 0.32 million tonnes during the same period, according to the CCH.
Contacted, Federation of Bangladesh Chambers of Commerce and Industry (FBCCI) President Md Jasim Uddin said they urged the Bangladesh Bank in November to release US$ 2.0-4.0 billion from the central reserve to help traders open L/Cs for Ramadan essentials and some raw materials for Eid-ul-Fitr-based industries.
"We requested the BB governor especially to release dollar for buying the essential commodities. The BB assured us that it would solve the dollar problem for traders."
"I hope, the condition would change in the coming weeks and import of Ramadan items would increase."
The FBCCI would sit with the traders concerned from next week to prevent any artificial hike in commodity prices, he added.
S M Nazer Hossain, vice president of the Consumers Association of Bangladesh (CAB), urged the government to ensure smooth supply of essentials in Ramadan and other peak-demand seasons.
He also emphasised strict market monitoring to ensure proper distribution of items.
[email protected]