Prime Bank makes Internet Banking registration more easier
Monday, 27 April 2020
---
Prime Bank has made Internet Banking registration more easier for the customers.
The customers now a days are increasingly using digital banking amid COVID-19 lockdown situation. The bank has made the onboarding process more easier and simpler to provide delightful online banking experience to the valued customers.
The customers can avail the Internet Banking service, ALTITUDE, by visiting https://www.primebank.com.bd/altitude_self_register/ with only few simple steps that will require less than ten minutes.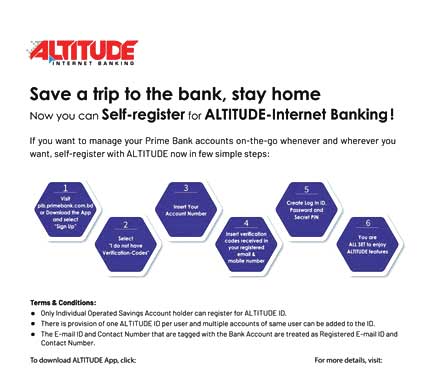 With two-factor authentication and SMS verification, ALTITUDE is equipped with the state-of-the-art security features to ensure safety and security of the assets of the customers.
The service will greatly benefit the customers as the most customers now prefer banking from home at the time of countrywide lockdown amid Coronavirus outbreak.
The customers can avail real-time fund transfer between Prime Bank and other bank accounts, pay Prime Bank and other bank credit card bills, make DPDC, DESCO, Metlife and mobile recharge payment. They can get real-time balance enquiry, download account statement, get details of FDR & deposit scheme and loan information and many more.
Commenting on launch of the service, Prime Bank's Managing Director and CEO Rahel Ahmed said: "Prime Bank has always been in the forefront of digital banking solutions. We believe digital banking is the future of banking as the customers now want banking services from the comfort of their home on 24/7 basis."
He added: "We believe the service will be greatly beneficial to the valued customers at this difficult time of Coronavirus outbreak. We will continue to introduce more tech-enabled innovative banking services to help the valued customers enjoy banking services from anywhere anytime."