Proposed VAT, tax hike to hit steel industry hard
Plea to withdraw advance tax from scrap purchase and revise VAT proposal
---
FE Desk | Monday, 24 June 2019
---
The price of rod is likely to go up by 10,350/- per MT, if the proposed VAT and tax is implemented as per 2019-20 budget proposal.
Bangladesh Steel Manufacturers' Association (BSMA) said at present Tk 1400/- per MT VAT is applicable on MS rod sales and Tk 200/- on retail sales.
But as per new proposal it will be Tk 9050/- per MT (5 per cent on billet price of around Tk 35000/- per MT, Tk 2000/- on billet sales, Tk 2000/- on MS rod sales, 5 per cent on retail sales price of around 65000/-); increase is Tk 7600/- per MT.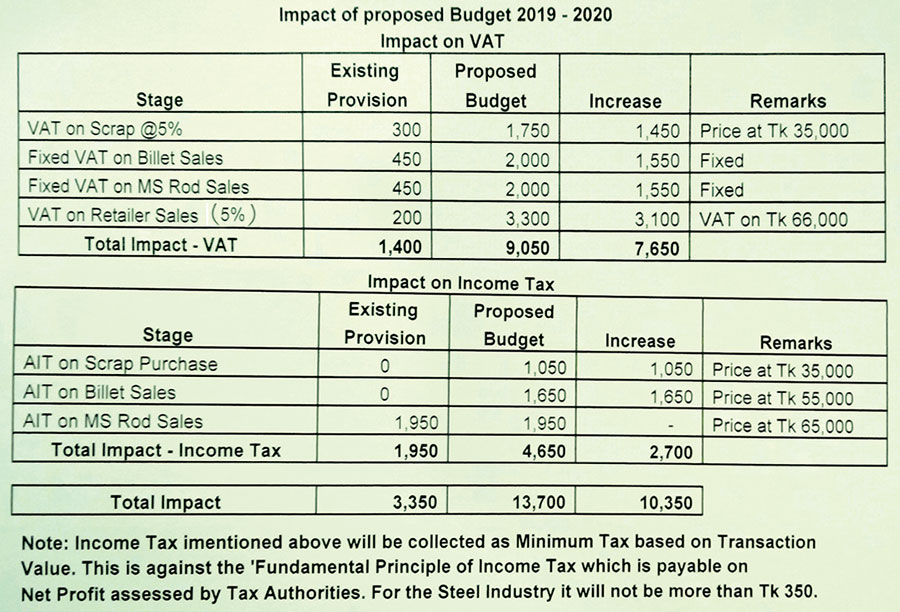 New imposition of tax will add further Tk 2700/- per MT. At present average AIT is Tk 1950/- per MT (3 per cent on sales price of Tk 65000/-). As per new proposal, it will be Tk 4650/- per MT (3 per cent on scrap purchase, 3 per cent on billet sales price and again 3 per cent on MS rod sales price).
Chairman of BSMA Manwar Hossain said, "MS rod is the core construction material. If such imposition of VAT and tax is in effect, almost 3600 directly or indirectly-related industries will be affected." Moreover, all manufacturers will need more 5 per cent working capital as 5 per cent advance tax (AT) will be deducted at raw material procurement stage which will aggravate liquidity crisis in the financial sectors, he added.
Vice President of the Association Zahir H Chowdhury said ," The proposed income tax will be collected as minimum tax based on transaction value. This is contradictory to the fundamental principle of income tax which is payable on net profit assessed by tax authorities. For steel industry it should be maximum Tk 350/- per MT as average profit is Tk 800-1200/- per MT; highest Tk 1400/-".
The association leaders urged the government to withdraw the advance tax from scrap purchase and revise the proposal on increased VAT keeping Tk 750/- on per MT scrap and Tk 750/- on per MT billet.