Dutch ambassador visits BIAC
'Raising awareness about ADR to encourage investors'
FE Desk | Thursday, 18 April 2019
---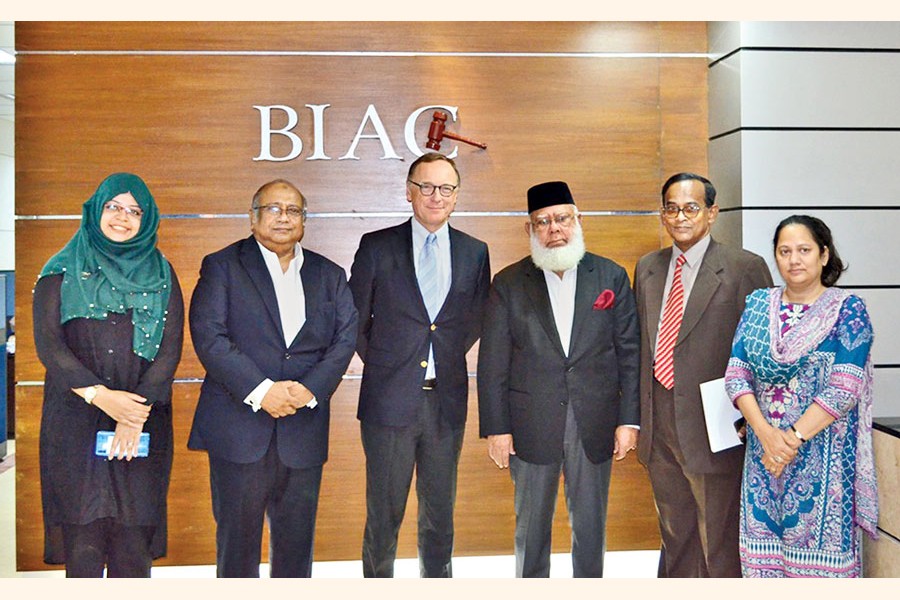 Harry Verweij, Ambassador of the Kingdom of the Netherlands to Bangladesh, visited the Bangladesh International Arbitration Centre (BIAC) in the city recently, says a press statement.
He was welcomed by BIAC Chairman Mahbubur Rahman and CEO Muhammad A. (Rumee) Ali. The ambassador went round the BIAC premises while Director MA Akmall Hossain Azad delivered a brief presentation on the activities and achievements of BIAC.
The CEO pointed out why the Alternative Dispute Resolution (ADR) is a need in this country, particularly in the case of attracting more FDI.
The ambassador agreed and added that the embassy aims to enhance trade volume between Bangladesh and foreign investors.
Generating more awareness about the existence of ADR mechanisms to address trade issues will encourage investors, said the CEO.
Mr. Ali also informed the ambassador that the tripartite committee, convened by the Bangladesh Bank to draft ADR Guidelines for banks, has made notable progress recently.
The ambassador was also apprised about the training courses BIAC offers and is going to organise this year.
The ambassador appreciated the interaction with BIAC team and congratulated BIAC on its hard work and achievements so far.
BIAC is delighted that the Embassy of the Kingdom of the Netherlands in Bangladesh has agreed to recognise BIAC by promoting the BIAC web.
The ambassador was also informed that BIAC has cooperation agreement with the Permanent Court of Abritration (PCA), an intergovernmental institution situated in the Hague, the Netherlands, and has been given the appointing authority for an arbitration administered by the PCA.