Decline in LC opening
Reconditioned car imports may drop
Higher import costs push prices 15-20pc up
---
ADNAN HOSSAIN BHUIYAN | Saturday, 6 August 2022
---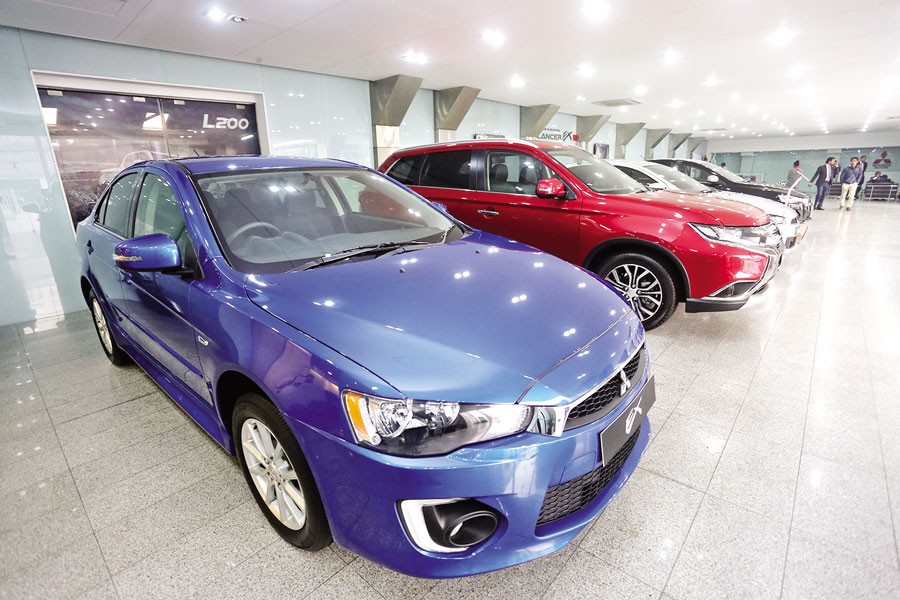 Reconditioned car imports may see a downturn following the opening of LCs (letters of credit) has been in decline, thanks to the government's contractionary measures to save foreign-currency reserves.
The opening of LCs to import used cars has dropped by one third in the last two months after a central bank measure, say sector insiders.
It imposed a prohibitive 100-per cent cash LC margin on luxury items including different types of cars.
Besides, increased supplementary duty (SD) on luxury cars, Japan's halt in brand-new car production, higher freight charges and the Russia-Ukraine war have made the car market volatile, they add.
The Bangladesh Bank (BB) also instructed other banks not to buy new cars or replacing old ones for officials for at least one year, reads a recent BB circular.
Car sales have dropped by nearly 50 per cent in the circumstances, comment the leaders of the Bangladesh Reconditioned Vehicles Importers and Dealers Association (BARVIDA).
BARVIDA president Md Habib Ullah Dawn says the opening of lower LCs in the last two months implicates that the import of used cars will reduce in the next few months.
Referring to the Tk 200-billion home car market, he says if the market gets squeezed, it will also adversely affect the government's revenue collection.
"Cars below 2000cc engines shouldn't be considered a luxury item anymore considering the country's GDP growth and increasing purchase power of people."
The sector started recovering from the pandemic-spawned losses since mid-2021, Mr Dawn says, adding: "The majority of importers won't be able to import cars at 100-per cent cash LC margin."
"Although we've agreed to the government's decision, many banks are dilly-dallying to open LCs which has been increasing import costs further as dollar price is jumping daily."
Freight charges have increased globally during Covid-19 and the ongoing war has added woes to it, observes Mr Dawn, also the proprietor of Auto Museum Ltd.
Given the current situation, used car imports may fall by 30-40 per cent in the coming months, thereby pushing many car sellers out of business, he maintains.
On May 10, the BB imposed a prohibitive 75-per cent cash LC margin, up from 25 per cent, on vehicles like SUVs (sports utility vehicles), MPVs (multi-purpose vehicles) and sedans.
On July 04, it issued another notification, abolishing the previous one, adjusting the LC margin to 100 per cent for such luxury items.
The regulator has tightened restrictions on luxury item import aiming to offset the ballooning import costs and releasing mounting pressure on forex reserves.
BARVIDA data shows 23,075 cars were imported in fiscal year (FY) 2017-18. The number was 12,502 in FY19, 13,258 in FY20, 14,438 in FY21 and 14,077 in FY22.
In the last five years, according to the revenue board, the government has collected around Tk 25.90 billion, Tk 27.42 billion, 26.24 billion, Tk 29.39 billion and Tk 27.43 billion in revenues from car imports.
Meanwhile, BARVIDA secretary general Mohammed Shahidul Islam tells the FE that the impact of lower LCs will start to be felt from next month.
As a consequence of lower import trajectory and higher import costs, the price of reconditioned cars has already increased by 15-20 per cent, he says.
Japan also stops making new cars for the global recession, mounting the demand for used cars there and making it costlier for Bangladeshi importers to source Japanese cars, he argues.
Mr Islam, who owns HNS Automobiles, says Japan is the source of 95 per cent of the reconditioned cars imported to Bangladesh.
Sales of reconditioned cars at home dropped by nearly 50 per cent amid economic uncertainty among customers, ignited by mounting inflation as a result of global economic meltdown.
According to Mr Islam, Bangladesh has an annual demand for an estimated 20,000 cars-70 per cent are reconditioned and the rest are new.
Besides, the budget for FY23 has increased SD on motor vehicles, thus leading to an increase in car prices.
The duty has been raised to 250 per cent from 200 per cent for cars having 2001-3000cc engines.
It has been set 500 per cent from 350 per cent for cars with 3001-4000cc engines.
However, the duty on vehicles with more than 4000cc engines remains the same at 500 per cent.