Company profile
Renata clocks 20pc growth against mkt growth of 17pc
Mohammad Mufazzal | Sunday, 12 January 2020
---

Listed pharmaceutical company Renata witnessed a steady growth in net profit for the last three fiscal years (FYs) as the company maintained its high professional standard in manufacturing 'quality' medicines.
The company reported its net profit of above Tk 3.82 billion for the FY 2018-19 with a growth of 19.59 per cent compared to the previous FY.
For the FY 2017-18, the company's net profit rose 22 per cent to close at above Tk 3.19 billion from above Tk 2.61 billion reported for the FY 2016-17.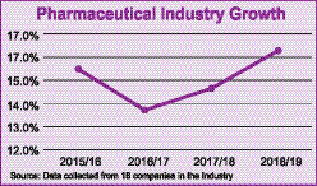 Dr. Sarwar Ali, chairman of Renata, said the company's growth is higher than the industry growth.
"Our company has featured growth above 19 per cent for the FY 2018-19 whereas the market growth varies from 11 per cent to 17 per cent," Mr Ali told the FE.
He said doctors' confidence in Renata is increasing day by day because of its use of state-of-the art technology to manufacture quality medicine.
"We have no strategy of increasing turnover by selling products at lower prices amid the ongoing competition of increasing sales. Quality is our strength," Mr. Ali said.
For the FY 2018-19, the Renata's turnover rose to above Tk 25.43 billion from Tk 21.33 billion reported for the FY 2017-18.
The company's gross profit was above Tk 11.15 billion for the FY 2018-19, above Tk 9.34 billion for the FY 2017-18 and above Tk 8.10 billion for the FY 2016-17.
Renata reported its consolidated EPS (earnings per share) of Tk 46.63 for the FY 2018-19 against 38.57 for the FY 2017-18.
The company's consolidated EPS was Tk. 12.78 for July-September 2019 as against Tk. 10.46 for July-September 2018.
Md. Moniruzzaman, managing director at IDLC Investments, said the growth of Renata is impressive compared to peer companies.
"The vision of the owners and performance of the management are being reflected through the company's growth," Moniruzzaman said.
Its consolidated net veal value (NAV) stood at Tk 230.90 for the FY 2018-19 against Tk 192.56 for the FY 2017-18.
The company has also maintained a steady growth in dividend disbursement for its shareholders.
The amount of its cash dividend was much higher than the amount of stock dividend.
Renata recommended 100 per cent cash and 10 per cent stock dividend for the year ended on June 30, 2019.
In this regard, the company said bonus shares have been recommended in view to utilise its retained amount as capital for manufacturing facility expansion.
The company disbursed 95 per cent cash and 15 per cent stock for the FY 2017-18 and 130 per cent cash and 15 per cent stock for the FY 2016-17.
Renata, presently an 'A' category company, was listed on Dhaka Stock Exchange in 1979.
The company's sponsor-directors hold 51.16 per cent shares, institutes 18.91 per cent and general investors 7.26 per cent as on November 30, 2019.
Foreign shareholders also hold a significant amount of shares in Renata. The foreigners hold 22.67 per cent shares of the company as on November 30, 2019.
The company's share price closed at Tk 1026.80 each on Thursday with a loss of 4.20 per cent or Tk 45.
Renata, formerly known as Pfizer Ltd, is one of the leading and fastest growing pharmaceutical and animal health product companies in Bangladesh.
The company started its operations in 1972 as Pfizer (Bangladesh) Ltd. In 1993, Pfizer transferred the ownership of its Bangladesh operations to local shareholders and the name of the company was changed to Renata.
Renata has two subsidiaries namely Renata Agro Industries and Renata Oncology.
According to a company disclosure, Renata and Renata Oncology will be merged subject to approval of the High Court.
[email protected]