Renata's profit dips to 10-quarter low on stronger dollar
Revenue growth remains flat while production cost soars 21pc in Q2
---
BABUL BARMAN | Thursday, 2 February 2023
---
Renata Limited's profit dropped below Tk 1 billion in October-December 2022 for the first time in 10 quarters due to a spike in the prices of raw materials driven by the dollar crisis.
One of the leading drug makers in Bangladesh, it gained a profit of Tk 879 million in the second quarter of the FY23, about 35.37 per cent down from the corresponding period of the previous fiscal year.
It is the lowest quarterly profit of the company since the January-March quarter of the FY20, when the company's net profit was Tk 830 million, according to its financial statements.
As a result, Renata's consolidated earnings per share (EPS) fell to Tk 7.66 for October-December 2022, from Tk 11.89 a year ago.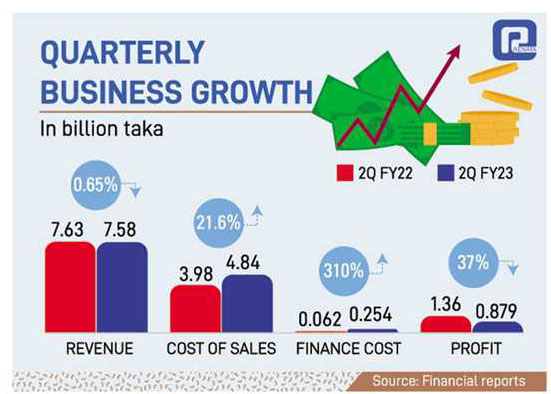 As the taka lost value against the dollar, import cost shot up pushing the production expense up 21 per cent year-on-year to Tk 4.84 billion in the three months through December 2022.
Moreover, the prices of raw materials in the global market were much higher than before due to the supply chain disruptions rendered by the Russia-Ukraine war.
On the other hand, the 0.65 per cent year-on-year uptick in revenue in Oct-Dec 2022 was insignificant.
The local currency has been devalued by about 25 per cent against the greenback in the past one year. It became 14 per cent cheaper in the six months through December 2022, according to Bangladesh Bank.
Higher cost of goods sold dragged the operating profit down by 34 per cent, said Salim Afzal Shawon, head of research at BRAC EPL Stockbrokerage, a top tier brokerage firm in Bangladesh.
"The operating profit was further squeezed by an increase in financial expenses. As a result, the bottom-line growth was down 35.6 per cent in Q2," said Mr Shawon.
Renata, one of the fastest growing pharmaceutical and animal health product producers, saw a 310 per cent jump in finance costs year-on-year to Tk 254 million in October-December 2022.
In the six months through December 2022, the drug maker's profit dropped 22 per cent year-on-year to Tk 2.12 billion as the finance cost jumped 365 per cent during the period.
The contract-manufacturing business of Renata suffered a significant setback as there was no government procurement of birth control pills since last fiscal year while exchange rate loss adversely affected the financial performance, a company official said, requesting anonymity.
Renata remains the market leader in the animal health sector as its sales in the segment grew 5.28 per cent in the FY22 against the industry growth of 2.37 per cent.
The company started operations in 1972 as Pfizer (Bangladesh) Ltd. In 1993, Pfizer transferred the ownership of its Bangladesh operations to local shareholders and renamed it as Renata Ltd.
In the FY22, the company's profit rose slightly by 1.51 per cent to Tk 5.11 billion and it declared 140 per cent cash and 7 per cent stock dividend for the year.
Renata's stock price has been languishing at the floor price of Tk 1217.90 since November 13 last year.
Currently, it is exporting medicine to around 30 countries, including the USA, the UK and EU countries. In 2013, it set up Renata UK, from where it could ship products to EU countries.
In the FY22, the company's export sales amounted to Tk 1.21 billion, increased by 51.3 per cent from the previous fiscal year.
Exports are expected to rise in the coming years as the company has filed applications for exports of three new products to the UK, Ireland, Malta, and Germany, according to company officials.
Bangladesh exported medicines worth $189 million in the FY22, an 11 per cent increase from a year earlier, according to data from Export Promotion Bureau.
Industry insiders hope that export of drugs from Bangladesh may cross $1 billion within the next three years as the door to the US market, the world's largest, has opened for some drug makers because of their high level of compliance.
The pharma sector, which meets 97 per cent of the domestic demands, witnessed a 12.1 per cent compound annual growth over the last five years. The medicine market size is around Tk 300 billion, according to UCB Asset Management.
The pharmaceuticals sector as a whole has a great potential to grow given the country's sheer size of the population and development trajectory.
[email protected]