Renata's profit slumps despite growth in revenue
FE REPORT | Monday, 14 November 2022
---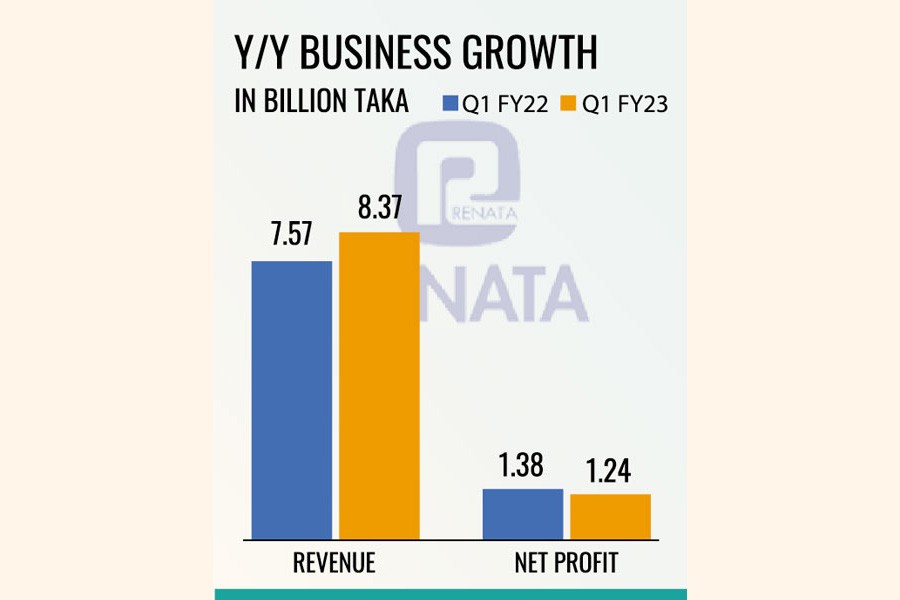 Renata Limited's stock plunged 6.55 per cent or Tk 85.3 on the Dhaka Stock Exchange to Tk 1,217.90 on Sunday after its disclosure of a 10 per cent fall in profit in the first quarter of the current fiscal year ended in September.
The pharmaceutical company recorded a profit of Tk 1.24 billion in July-September of the fiscal year 2022-23, down from Tk 1.38 billion in the corresponding period of the previous fiscal year.
Its consolidated earnings per share (EPS) fell to Tk 11.62 for the quarter from Tk 12.90 a year ago, according to its un-audited financial statements.
The medicine maker's sales, however, rose 10.56 per cent year-on-year to Tk 8.37 billion in the first quarter of FY23. Its profit declined because expenses also climbed up at the time by 14 per cent to Tk 6.51 billion.
The cost rose due to the escalating prices of raw materials and a significant depreciation of taka against dollar, said a company official, requesting anonymity.
The consolidated net operating cash flow per share went down to Tk 9.59 in the July-September quarter from Tk 14.80 in the same quarter last fiscal year, for higher payments, the company said.
The consolidated net asset value (NAV) per share was Tk 285.98 at the end of September this year, which was Tk 274.39 on June 30.
Listed in 1979, the drug maker declared 140 per cent cash and 7.0 per cent stock dividend for the year ended in June, 2022.
For FY21, it provided 145 per cent cash and 10 per cent stock dividend.
Its paid-up capital is Tk 1.07 billion and authorised capital is Tk 2.50 billion while the total number of securities 107.19 million.
The pharmaceuticals sector, which meets 97 per cent of the domestic demands, witnessed a 12.1 per cent compound annual growth over the last five years. The market size was Tk 275 billion as of June 2021, according to an analysis of UCB Asset Management.
Exports by the sector amounted to $188 million in FY22, increased by more than 11 per cent from a year earlier, according to the Export Promotion Bureau.
Industry insiders hope that drug exports from Bangladesh may cross $1.0 billion within the next three years as the door to the US market, the world's largest, has opened for some drug makers because of their compliance with the international standards.