1st anniv of influx
Rights bodies want justice for Rohingya repression
Sunday, 26 August 2018
---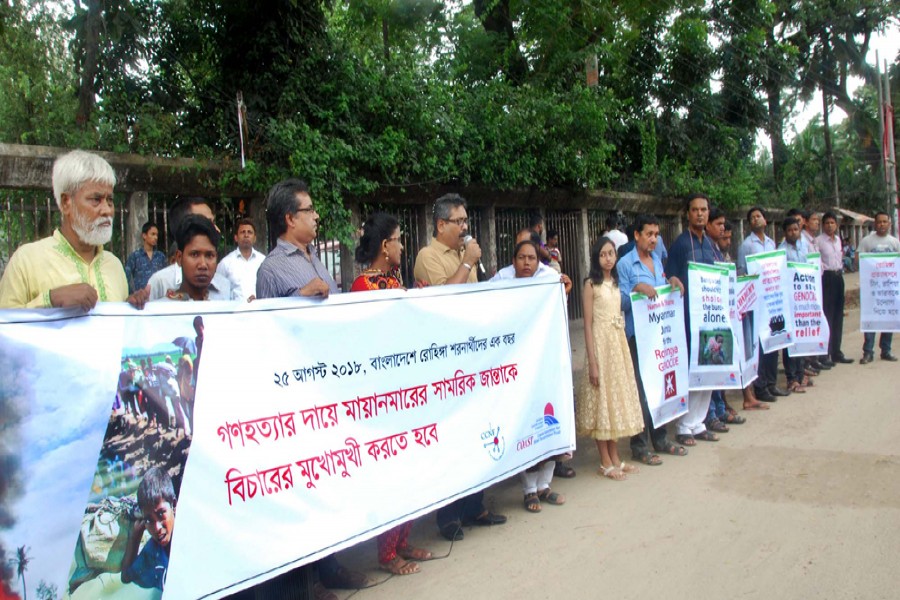 Different rights bodies have called for bringing Myanmar junta for carrying out violence of Rohingyas to justice in International Criminal Court (ICC), otherwise such ethnic cleansing and genocide like Rwanda will recur, reports UNB.
UN agencies and INGOs (International non-government organisation) must emphasise the justice rather than providing relief. Especially India, China and Russia must play an effective role in this regard, they said.
They made the call while speaking at a human chain programme organised by CCNF (Cox's Bazar CSO and NGO Forum) and COAST Trust in front of the National Press Club, in the city on Saturday, marking the 1st anniversary of 25th August 2017 Rohingya influx in Bangladesh, said a press release.
Moderated by Mostafa Kamal Akhanda of COAST, the human chain programme was addressed, among others, by Badrul Alam and Zayed Iqbal Khan of Bangladesh Krishok Federation, Subol Sarkar of Bangladesh Bhumihin Samity, Barkat Ullah Maruf of COAST and Rezaul Karim Chowhdury of CCNF and COAST.
Barkat Ullah Maruf read out a five-point demand, that include publication of relief accounts by all national and international aid agencies and strengthening of Bangladesh's diplomatic effort and taking multilateral approach rather than the bilateral one with Myanmar for early Rohingya repatriation.
Badrul Alam said the Rohingya refugee issue is one of the imposed problems on Bangladesh.
Mostafa Kamal Akanda said the global interest in Rohingya issues is fading away and once the INGOs and UN agencies will be no more there when Bangladesh government will have to take the sole responsibility.