Robi's profit remains low as it burns cash
EPS falls more than 14pc year-on-year in Q3
---
FE Report | Sunday, 30 October 2022
---
The country's second largest telecom operator Robi Axiata has reported positive earnings for July-September, 2022 after incurring loss in the immediate past quarter.
The consolidated EPS, however, records a major slump, 14.28 per cent, compared to the same quarter last year.
Despite a significant year-on-year growth in revenue in Q3, earnings per share dropped because of a reduction in profit. "Profitability remains subdued due to large scale capex injection in our business," said Riyaaz Rasheed, Robi's acting chief executive officer and chief financial officer.
Company officials told FE that they had increased capital expenditure (capex) investments to meet regulatory requirements so to improve telecom services.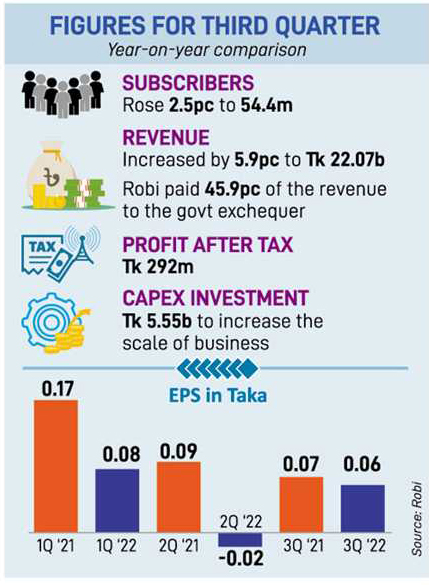 "Unfortunately, there is no alternative", Mr Rasheed said, "If we want to increase the scale of our business, which is critical to securing long-term sustainable growth in profit margin."
For the Q3, 2022 the company saw 4.8 per cent growth in revenue compared to the last quarter while the growth was 5.9 per cent compared to the same quarter last year.
Voice revenue increased by 6.0 per cent compared to the previous quarter and by 8.7 per cent compared to the same quarter last year.
Data revenue grew by 2.8 per cent compared to the last quarter, while it rose 3.8 per cent compared to the same quarter last year.
Including Q3, 2022, Robi's revenue for the first nine months of 2022 reached Tk 63.31 billion, and profit after tax Tk 56.9 milion.
A public limited company, Robi maintained its 4G leadership in Q3, 2022, having 50.9 per cent of its total subscribers using 4G network.
Robi ensured 98.2 per cent population coverage of its 4G network with 15,219 4G sites.
Its 4G subscribers grew by 4.9 per cent compared to the last quarter, and 23.2 per cent compared to the same quarter last year.
Between July and September, each Robi data subscriber consumed 5.7GB data every month on an average.
Compared to the same quarter last year, data usage per subscriber per month soared by 34.2 per cent.
Earnings before interest, taxes, depreciation and amortization (EBITDA) in the third quarter of 2022 grew by 0.3 per cent, compared to the last quarter to reach above Tk 9.69 billion. Compared to the same quarter last year, EBITDA grew by 12.6 per cent.
EPS in Q3, 2022 was Tk 0.06 taka, while it is Tk 0.11 for the first nine months.
Asian telecom giant, Axiata Group Berhad, based in Malaysia, holds the majority stakes of Robi, amounting to 61.82 per cent.
Another global telecom giant, Bharti Airtel, India, holds 28.18 per cent of shares in the company that was listed with the country's bourses' in 2020. The stock was static at Tk 30 on Thursday.
[email protected]