Ronaldo likely to return to Juve
'PSG offer Neymar back to Barcelona'
---
Friday, 24 June 2022
---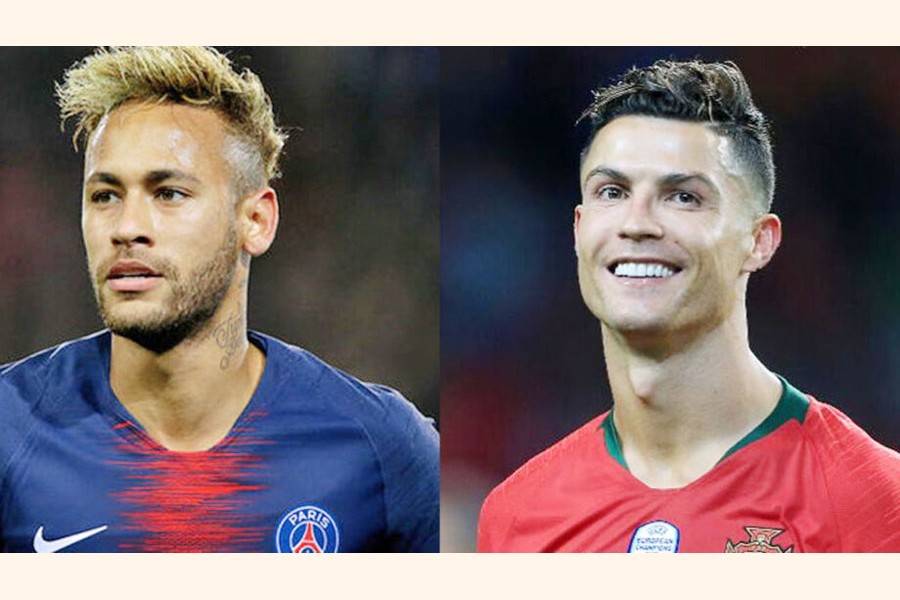 Less than a year after his sensational return to Manchester United, Cristiano Ronaldo is now being linked to a move back to Turin. Meanwhile, Paris Saint-Germain (PSG) are said to be open to selling Neymar and have offered him back to former club Barcelona, report agencies.
According to British national daily newspaper The Daily Mirror, Ronaldo's manager Jorge Mendes has offered the Portuguese talisman to Juventus.
According to Sport, Mendes has submitted a proposal to Juventus regarding the prospect of the 37-year-old returning to The Old Lady. As per the reports, that is not a move that Juventus have totally ruled out although there is some doubt over whether they would be able to complete a deal.
It is believed that Ronaldo may have to accept a significant decrease in his wages if the move is to go ahead. He isn't the only United player being linked to the Italian club though. French midfielder Paul Pogba is also on the verge of a return to a move from Old Trafford to Turin, for the second time in his career.
The 37-year old found the back of the net 24 times in what was a forgetful season for Manchester United, as they failed to qualify for the Champions League, a result that leaves Ronaldo's future at the Old Trafford under doubts.
United finished sixth in the Premier League and were knocked out of the Champions League in the Round of 16 by Atletico Madrid. The Red Devils were also unable to win any domestic cup titles and were under continuous scrutiny of fans and football pundits following some of the worst outings in the post-Ferguson era.
Meanwhile, British daily newspaper The Daily Mail reports, Paris Saint-Germain (PSG) have offered Barcelona a chance to re-sign Neymar for £43million, according to reports.
The former Barcelona winger completed his £198m switch to Paris five years ago and has since scored a century of goals for the club in only 144 appearances.
However, the Brazilian has yet to win the coveted Champions League crown in France and is no longer the poster boy of PSG, following the meteoric rise of Kylian Mbappe and arrival of Lionel Messi in 2021.
Neymar is not out of contract for another three years but it seems the French giants are keen to cash in on the winger this summer, reportedly offering him around to potential suitors.
According to Spanish outlet Sport, PSG have 'repeatedly' handed Barcelona the chance to re-sign Neymar for £43.1m.
The 30-year-old is reportedly willing to exit Paris this summer, but only if it permits him rejoining his former club.
However, with Barcelona entrenched in financial adversity and holding a long transfer wish list including Robert Lewandowski, Bernardo Silva and Raphinha, a deal for Neymar could be very hard to justify in the short-term.
The Catalan club were granted permission to offset a share of their assets last week, including 49.9 per cent of Barcelona Licensing and Merchandising.