Sea Pearl Beach Resort soars 600pc in more than 7 months
Experts blame speculation-driven trading for unusual stock price hike
---
BABUL BARMAN | Sunday, 19 March 2023
---

The imposition of floor price has led to a handful of junk stocks becoming dominant in daily transactions on the Dhaka bourse.
But Sea Pearl Beach Resort & Spa, which falls into 'A' category stocks, has been behaving differently from its peers.
It has been flying high on the Dhaka Stock Exchange (DSE) since the Bangladesh Securities and Exchange Commission (BSEC) brought the price movement restriction into effect for the second time in July last year.
The stock of the five-star hotel in Cox's Bazar started climbing on July 28, 2022. In more than seven and a half months to Thursday, the price per share was multiplied by seven times to Tk 308.20.
Sea Pearl Beach Report is soaring at a time when investors are suffering from a confidence crisis amid economic adversities ushered in by the Russia-Ukraine war.
Market experts said the company's shares had been rising due to over enthusiasm among investors; a group of influential investors created an artificial demand by spreading rumors that the stock price would go even higher.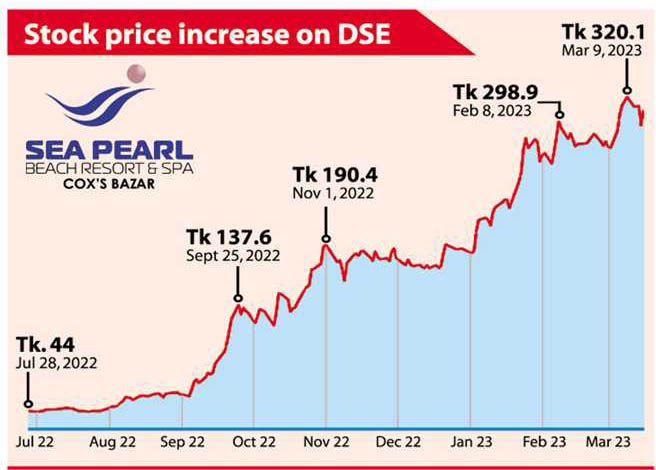 The company's profit growth does not justify the stock's rise in the market, said Abu Ahmed, a former professor of economics at the University of Dhaka.
Some companies have been rising on the bourses though their earnings do not match the increase in share prices, he said. "Greedy investors put money into these shares hoping for quick profits."
Wishing not to be named, a merchant banker said recent developments, such as higher revenue growth and the company's decision to acquire 30 per cent stakes in non-listed Shamim Enterprises might be among the reasons for the share price hike.
Financial Performance
Sea Pearl Resort's revenue jumped more than 111 per cent year-on-year to Tk 1.1 billion in the six months through December 2022.
The revenue growth is attributed to optimum utilization of rooms, operation of a fully fledged water park, running of cruise ships and other activities.
The company posted an impressive profit growth of 385 per cent year-on-year to Tk 422 million in the first half of the current fiscal year.
Its profit jumped 120 per cent to Tk 161 million in the FY22, compared to the previous year, with Covid-related social restrictions gone and people going on vacations that had been pending for long.
The business growth, however, does not back up the 600 per cent jump in the stock price, said Mr Abu Ahmed.
The market is dominated by selective stocks since the re-imposition of the floor price, which are mainly bought and sold over speculations by general investors looking for quick gains.
A BSEC official preferring anonymity said the regulator was trying to contain the spread of rumours with the help of technology. The regulator has already taken some legal actions against those responsible, he added.
Acquiring stake in Shamim Enterprises
Sea Pearl Beach Resort last week decided to acquire 30 per cent stakes in non-listed Shamim Enterprises at Tk 334 million. The latter has been in construction business since 1984.
Shamim Enterprises' annual turnover is around Tk 2 billion.
It has completed various mega projects, including multi-storied commercial buildings, flyovers, international standard 5-star hotels and hospitals.
Currently, it is in charge of maintaining and collecting tolls at a number of major bridges in the country.
"Shamim Enterprises is a profitable concern and investment in the company will be beneficial for the company and its shareholders," said Aminul Haque Shamim, managing director of Sea Pearl Beach Resort in a statement.
The company is also a partner in the project of upgrading the Joydevpur-Debogram-Bhulta-Madanpur (Dhaka By-pass) Road into a four-lane highway, the work of which began in 2018. Shamim Enterprises owns 30 per cent of the project worth around Tk 32 billion. About 38 per cent of the work is done and it is expected to be complete by 2024.
Another piece of news that might play a role in the stock price surge is that the company is going to enjoy a big amount of interest waiver by the state-owned Investment Corporation of Bangladesh.
But the company's shares started rising even before the news started circling around in October last year.
Sea Pearl Beach Resort, which began operation in 2015, was built with a bank loan. The owner then issued bonds worth Tk 3.25 billion offering 10 per cent interest rate so it could pay off the bank loan.
At present, Sea Pearl owes more than Tk 4 billion to the ICB that fully subscribed its bonds issued in October 2017, the tenure of which was eight years with a two-year moratorium period.
The owning company, luxury hotel Royal Tulip in Cox's Bazar sought the waiver when tourists disappeared from the beach town at the onset of the pandemic.
Though the matter is still hanging, the stock price soared based on the rumour that the resort's profits will increase substantially after the interest waiver.
Company secretary Md Azaharul Mamun recently said there was no price sensitive information that might influence the share price.
Mr Mamun said the hotel business was going well now and the company extended its business into running two cruise ships on the Khulna-Sundarbans-Khulna route with an investment of Tk 85 million.
The new business added around Tk 16 million in yearly revenue in the FY22.
Auditor's Concern
Auditor Kazi Zahir Khan and Co, Chartered Accountants said Sea Pearl's total debts -- bank loans and bonds -- amounted to Tk 4.88 billion, which was equivalent to 75.52 per cent of the assets.
The company has failed to pay regular installments against bonds since April 2020. For this, its liabilities have increased by 5.62 per cent in the year through June 2022.
[email protected]