Shipping Corporation's profit jumps 23pc in Q3 on monopoly on state cargo shipment
Freight charges drop 50-70pc Y/Y in the quarter
---
FE REPORT | Friday, 26 May 2023
---
The Bangladesh Shipping Corporation (BSC) posted a 23 per cent year-on-year growth in profit to Tk 622 million for the January-March quarter of FY23, riding on the monopoly on water shipment of government-imported cargoes.
Its earnings rose from freight services, including loading and unloading of cargoes by lighter vessels, and from service charge, berthing rights charge etc.
The state-run oceangoing vessel management authority logged a profit of Tk 1.90 billion in the nine months through March of FY23, a 7.7 per cent increase from the same period a year ago.
The Corporation's revenue from transportation by lighter vessels more than doubled to Tk 304 million in the January-March quarter as it received the exclusive right to carry state cargoes.
The shipping ministry issued the Bangladesh Flag Vessel (protection of interests) rule in February this year, incorporating a provision that the Shipping Corporation will handle waterway shipment of all state imports of fertilizer, crude oil, food items, and motor vehicles.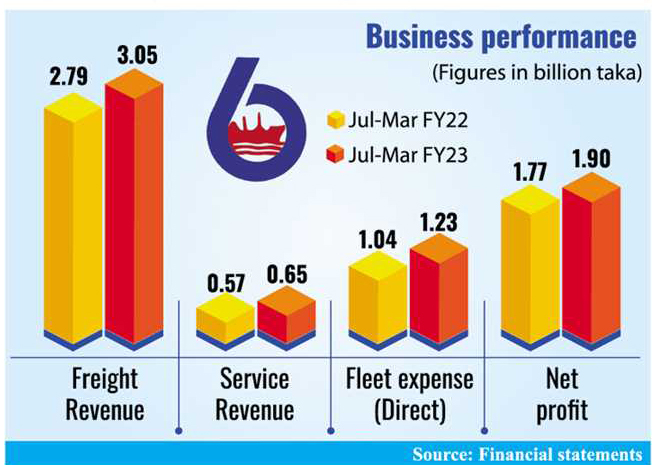 Commodore Md Ziaul Hoque, managing director of the BSC, said revenue earnings from major segments helped profit growth.
A sharp fall in global shipping fares and vessel maintenance slowed down profit growth in the third quarter of the ongoing fiscal year, he said, otherwise earnings would have been much higher.
The Shipping Corporation's overall revenue earnings rose 15 per cent year-on-year to Tk 1.23 billion in January-March.
Higher income from fixed deposit receipts and rented property in Dhaka also helped boost profit.
Interest income against savings in financial institutions soared 34 per cent year-on-year to Tk 176 million in January-March this year.
Meanwhile, the Corporation's direct fleet expenses jumped 25 per cent to Tk 456 million in the latest quarter due to fuel price hike.
It also provides local exporters and importers with shipping services to carry readymade garments for example.
The BSC's annual profit growth accelerated in FY22 due to a significant rise in freight charges across the world until a reverse trend was seen in recent times.
It posted a staggering 213 per cent profit growth year-on-year to Tk 2.26 billion for FY22 and paid 20 per cent cash dividend to shareholders for the year.
Against the backdrop of the global slowdown in trades caused by shrinking demand for goods, freight charges dropped 50-70 per cent in the January-March quarter of FY23 from a record high in the same period last year, according to the Shipping Agents' Association.
The BSC started its journey with only two ships in 1972 and got listed in the stock market in 1977. It owned only two ships until 2018 before the inclusion of six vessels to its fleet. Three ships were added in 2018, and the rest in 2019.
One of its vessels -- Banglar Samriddhi -- came under attack in the Russia-Ukraine war last year. However, the BSC received an insurance claim worth $22.48 million in March this year.
The BSC operates a very small fleet of eight vessels, mainly bulk carriers and oil & chemical tankers, having no container vessel. It plans to launch a container feeder service, short-sea service and even a main line vessel service by adding more vessels.
The Shipping Corporation is trying to buy six more container vessels, but the relevant government bodies are yet to clear a loan proposal to fund the procurement, officials said.
The government holds 52.10 per cent shares, institutes 23.90 per cent and individual investors 24 per cent in the company, according to the data available until the end of April.
STOCK PERFORMANCE
Following its record high profit, Shipping Corporation's stock price peaked to Tk 173 on September 22 last year. But it failed to keep the momentum and gradually fell to Tk 110 at the end of December last year.
The stock again started rising at the very beginning of this year and dominated the turnover chart frequently following the news that Bangladesh Export Import Company (Beximco) joined the board of the Corporation after buying a 5.25 per cent stake at the expense of around Tk 1.18 billion.
The Corporation's stock price soared 22 per cent this year to close at Tk 134 on Thursday.
It became the most-traded stock with shares worth Tk 464 million changing hands on Thursday on the Dhaka Stock Exchange.
[email protected]