Spring adds colour to book fair
Abu Rakib | Saturday, 15 February 2020
---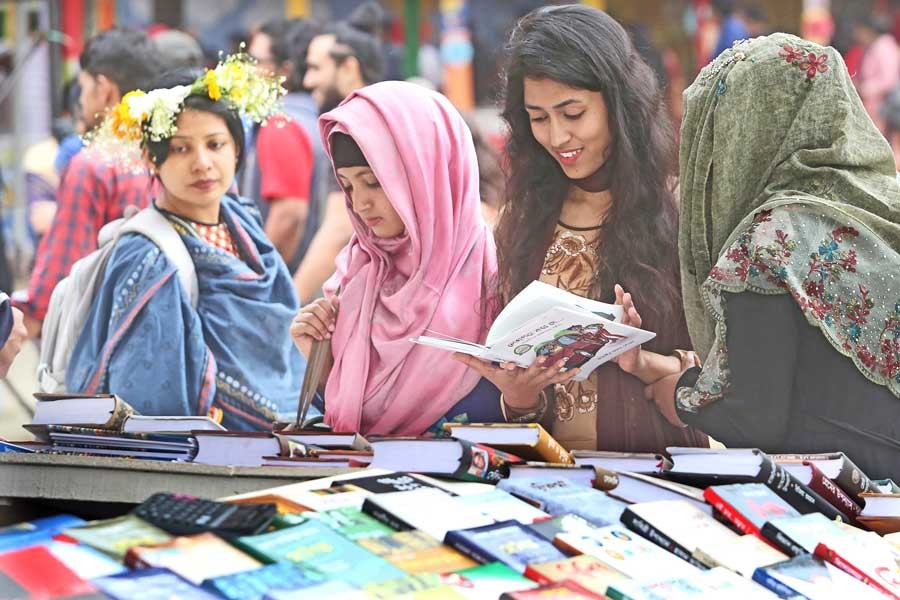 The month-long annual Amar Ekushey Book Fair-2020 drew a large number of visitors with a mélange of spring-themed colours on Friday.
Book lovers rush to the fair at weekends, but Pahela Falgun and Valentine's Day the same day added a new dimension to the fairground.
Wearing colourful traditional spring attire, young boys and girls in their multitudes visited the fair.
Boys in yellow or red panjabi and girls in yellow sari descended on the Bangla Academy premises and the adjacent Suhrawardy Udyan to welcome spring and also to browse books.
Young couples also celebrated Valentine's Day at the fair with their friends, lovers and relatives.
Many visitors were seen carrying new books while many couple were seen buying love stories of noted writers for their valentines.
Visitors saw a hectic afternoon rush while entering the fair venue for overcrowding with long queues from Teacher-Student Centre to Doyel Square.
Adequate security measures were taken to tackle the flow of visitors on the day.
The book sellers also passed a busy day in the fair.
Dhaka University student Mostafizur Rahman Nafis said, "I've visited the fair several times, but today is something special."
"I come to the fair with my friends and buy books every Pahela Falgun. I'm visiting stalls first and then I will buy books of my choice," he told the FE.
Book fair celebrated its 'Shishu Prohor' from 11:00 am to 1:00 pm.
Children's corner was tastefully decorated with toys. This year, little magazine corner and children's corner both are on the Suhrawardy Udyan part.
The presence of children was remarkable in the morning while the number of visitors of all ages increased in the afternoon.
The fair ran from 11:00 am to 9:00 pm.
A total of 369 new arrivals hit the fair on Friday.
This year, the authorities have allotted stalls of 126 organisations on the academy premises and 434 organisations at Suhrawardy Udyan.
They have allotted 873 units of total 560 organisations and also have allotted 34 pavilions of 33 organisations along with Bangla Academy.
The authorities made the allotments through online process for the second time, according to Bangla Academy source.
The fair will remain open from 3:00 pm to 9:00 pm during Sunday to Thursday.
On February 21, it will remain open from 8:00 am to 8:30 pm.
aburakibdu420@gmail.com