Stocks fall as bank, telecom issues plunge
Thursday, 30 August 2018
---
FE Report
Stocks slipped into the red on Wednesday as investors went on profit taking in the late hours.
Brokers said the retail investors went on booking profits, particularly in the banking and telecommunication sectors, taking the market in the negative territory after a single-day break.
"Stocks fell as investors shifted their tendency towards profit booking on stocks which posted significant gains in the last few days," said an analyst at a leading brokerage firm.
The banking sector witnessed the highest correction of 0.94 per cent with the prices of 23 banks closing lower out of 30 listed banks.
Telecommunication sector also lost 0.65 per cent as the sector heavyweight Grameenphone's share price fell Tk 2.50 each to close at Tk 387.40.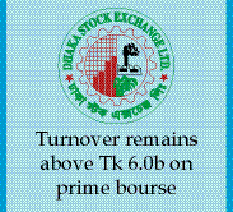 The market opened on positive note and the core index of the prime bourse rose about 20 points within first 10 minutes, but failed to stay positive as the session progressed.
Finally, DSEX, the prime index of the Dhaka Stock Exchange (DSE), went down by 16.16 points or 0.28 per cent to settle at 5,603 after gaining 34 points in the previous day.
LankaBangla Securities said that this downward shift in the index is mainly driven by significant negative changes in the banking sector.
The two other indices - the DS30 index and the DSE Shariah Index (DSES) - also ended lower.
The DS30 index, comprising blue chips, fell 6.49 points to finish at 1,967 and the DSE Shariah Index shed 4.83 points to close at 1,270.
The trading activities, however, continued to increase as total turnover on the Dhaka bourse stood at Tk 6.33 billion, which was 3.60 per cent higher than the previous day's turnover of Tk 6.11 billion.
According to International Leasing Securities, stocks witnessed trivial correction as investors opted to book profits on large-cap stocks.
Among other major sectors, food & allied, pharmaceuticals and engineering lost 0.64 per cent, 0.24 per cent and 0.05 per cent respectively.
Fuel & power and non-bank financial institutions gained 1.53 per cent and 0.39 per cent respectively.
Of the 334 issues traded on the DSE trading floor, 182 closed lower, 111 issues ended higher and 41 issues remained unchanged.
A total of 135,486 trades were executed in the day's trading session on the DSE with trading volume of 184.77 million securities.
The market capitalisation of the DSE came down to Tk 3,964 billion on the day which was Tk 3,969 billion in the previous session.
United Power topped the DSE turnover chart for the second straight day with 808,902 shares worth Tk 286 million changing hands.
The other turnover leaders were IPDC Finance, Baraka Power, Beximco and Khulna Power Company.
Prime Textile was the day's best performer, posting a gain of 9.96 per cent while Samata Leather Complex was the worst loser, losing 9.88 per cent.
The port city bourse CSE ended lower with its CSE All Share Price Index - CASPI - losing 71 points to settle at 17,236 and the Selective Categories Index - CSCX -shedding 40 points to finish at 10,439.
The losers beat gainers as 134 issues closed lower, 88 ended higher, with 22 issues remaining unchanged on the CSE.
The port city bourse traded 11.79 million shares and mutual fund units worth more than Tk 319 million in turnover.
[email protected]