Stocks keep gaining as large-cap issues surge
Turnover crosses Tk 10b-mark again on DSE
---
FE Report | Thursday, 10 January 2019
---

Stocks maintained the gaining streak on Wednesday as investors continued to show their buying appetite on large-cap issues.
Market analysts said stocks maintained its post-election rally amid stable political situation and growing investors' confidence in the market.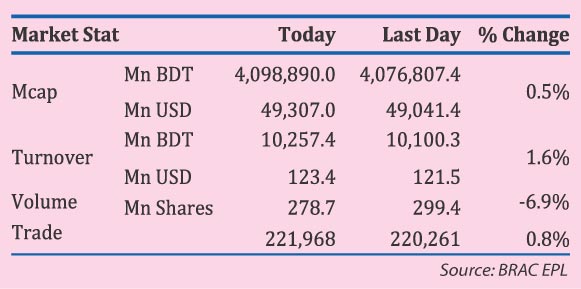 The market opened on upward trend and key index crossed the 5,800-mark twice in intra-day trading, but failed to stay that level amid profit booking selling pressure.
At the end of the session, DSEX, the prime index of the Dhaka Stock Exchange (DSE), went up by 27.81 points or 0.48 per cent to settle at nine months high at 5,798.
The bullish trend was triggered by fresh funds injected into the market amid growing investors' confidence and positive impact of the national election, commented City Bank Capital Resources in an analysis.
Last year, DSEX eroded nearly 14 per cent while it recovered 7.66 per cent within seven trading sessions of 2019.
The two other indices also followed the suit. The DS30 index, comprising blue chips, went up by 9.93 points to close at 2,011 and the DSE Shariah Index (DSES) advanced 7.92 points to close at 1,315.
Bullish sentiment also reflected on the trading activities as total turnover on the DSE amounting to Tk 10.25 billion, which was 1.50 per cent higher than the previous day's Tk 10.10 billion.
International Leasing Securities said buoyancy on lucrative price levels in telecom, financial institutions, engineering, and bank sectors helped the prime index to close higher.
The stockbroker noted that total turnover remained above Tk 10 billion for the second consecutive sessions as the investors are optimistic about the future market direction.
The engineering sector stocks grabbed 16 per cent of the day's total turnover, followed by banking with 14 per cent and pharmaceuticals 12 per cent.
A total number of 221,968 trades were executed in the day's trading session with trading volume of 278.68 million shares and mutual fund units.
The market-cap of DSE increased to Tk 4,098 billion which was Tk 4,076 billion in the previous day.
The financial institutions sector posted the highest gain of 3.10 per cent, followed by food with 1.29 per cent, engineering 0.94 per cent, telecom 0.85 per cent, pharma 0.43 per cent, banking 0.34 per cent and power 0.19 per cent.
The losers, however, took a modest lead over the gainers as out of 346 issues traded, 161 declined, 148 advanced and 37 issues remained unchanged on the DSE floor.
Olympic Industries dominated the turnover chart with 1.38 million shares worth Tk 359 million changing hands, followed by Active Fine Chemicals, BBS Cables, Singer Bangladesh and Dhaka Bank.
Low-cap companies continued to dominate the turnover chart with United Insurance was the day's best performer, posting a gain of 9.97 per cent.
Delta Spinners was the worst loser further, plunging by 8.22 per cent following the news that the company downgraded to "Z" category as it failed to hold an AGM in the calendar year 2018.
Port city bourse Chittagong Stock Exchange (CSE) also ended higher with the CSE All Share Price Index - CASPI - advancing 71 points to settle at 17,779 points and Selective Categories Index - CSCX -gaining 46 points to finish at 10,735.
The gainers beat the losers as 126 issues closed higher, 121 ended lower and 18 remained unchanged.
The port city bourse traded 17.84 million shares and mutual fund units worth nearly Tk 629 million in turnover.
babulfexpress@gmail.com