Stocks tumble amid panic sell-offs
FE Report | Monday, 10 February 2020
---
Stocks plummeted Sunday as worried investors continued their sell-offs on large-cap issues, fearing further fall of prices.
DSEX, the prime index of the Dhaka Stock Exchange (DSE), went down by 64.20 points or 1.44 per cent to settle at 4,388.
The core index had lost a cumulative 118 points or 2.62 per cent in the past four consecutive sessions.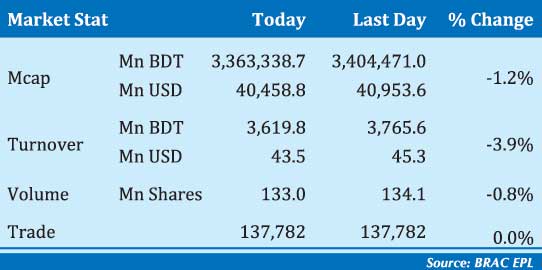 Market operators said investors are struggling with ongoing volatile market while gloomy macroeconomic outlook and a bill passed over depositing surplus money of state agencies to the national exchequer exacerbated the situation.
A bill to bring the surplus money of 61 state-owned and autonomous agencies to the state coffer was passed in parliament on Wednesday, said a merchant banker.
He noted that most of the investors are in fear of negative effects on the stock market after government decided to bring the surplus money of state agencies to the national exchequer.
A leading broker said falling private sector credit growth, declining export earnings and poor quarterly earnings kept most of the investors cautious.
He noted that the government's decision to offload shares of state-owned banks and profitable energy companies to the capital market, also failed to boost investors' confidence in the market.
The government on Sunday set timeline to September for listing three state-owned commercial banks (SoCBs) and offloading additional shares of another bank to the bourses, aiming to give new life to the ailing market that needs supplies of good issues.
Two other indices also ended lower. The DS30 index, comprising blue chips, lost 21.40 points to finish at 1,492 and the DSE Shariah Index plunged 14.99 points to close at 1,012.
Turnover, a crucial indicator of the market, also fell and amounted to 15-session low to Tk 3.62 billion, which was 3.72 per cent lower than the previous day's turnover of Tk 3.76 billion.
According to International Leasing Securities shaky investors mostly followed cautious stance based on unsatisfactory performance of major macro-economic indicators.
The stockbroker noted that the panicked investors liquidated their stakes from all the sectors stocks which contributed in notable fall in indices.
Large-cap sectors showed negative movements with engineering sector witnessed the highest loss of 2.24 per cent, followed by power with 2.06 per cent, food 1.56 per cent, banking 1.20 per cent, financial institutions 1.16 per cent, telecom 1.06 per cent and phrma 0.72 per cent.
Losers took a strong lead over the gainers as out of 356 issues traded, 271 closed lower, 43 ended higher and 42 remained unchanged on the DSE trading floor.
A total number of 121,475 trades were executed in the day's trading session with trading volume of 133 million shares and mutual fund units. The market-cap of the DSE also fell to Tk 3,363 billion, from Tk 3,404 billion in the previous session.
LafargeHolcim continued to top the turnover chart with shares worth nearly Tk 211 million changing hands, followed by Bangladesh Shipping Corporation, ADN Telecom, Singer Bangladesh and Indo-Bangla Pharma.