Summit Power's profit plummets on fuel price hike, foreign exchange loss
BABUL BARMAN | Wednesday, 16 November 2022
---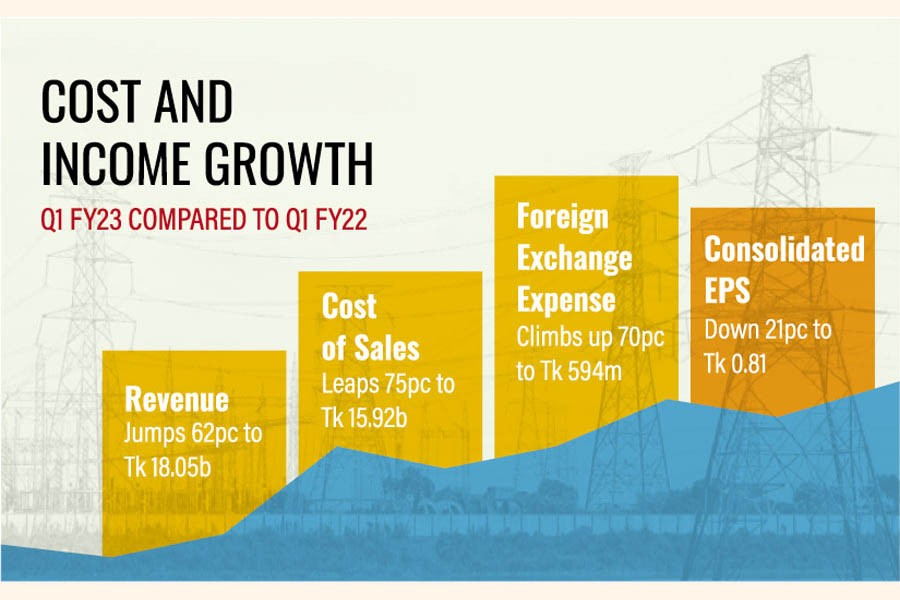 Summit Power, the country's largest private sector power producer, has reported a 21 per cent fall year-on-year in earnings per share in the first quarter of the current fiscal year mainly due to foreign exchange loss.
Its consolidated EPS was down to Tk 0.81 for the July-September quarter from Tk 1.02 a year ago. And profit declined to Tk 1.56 billion from Tk 1.76 billion during the time, according to an un-audited financial statement published on Tuesday.
The Russia-Ukraine war inflicted double jeopardy with unprecedented energy price hike and a leap in the exchange rate. As a result, production cost shot up by 75 per cent, eroding profit, said Mohsena Hasan, a high official of Summit Power.
The company needs a larger working capital now to ensure the supply of lubricants, spare parts and fuel. The delay in payments by the government for the electricity supplied by the Summit adds to the overall expenses.
During the quarter, loss caused by the foreign exchange volatility has been estimated at Tk 375 million for Summit Power and its subsidiaries as they have to purchase heavy fuel oil at higher costs.
Summit has 40 per cent stake in the subsidiaries, bearing the loss of Tk 150 million.
As a result, Summit's consolidated net finance expenses soared 70 per cent to Tk 594 million in the July-September quarter, compared to the same quarter a year earlier.
Summit Oil & Shipping Company, fuel supplier of the subsidiary companies -- Summit Barisal Power, Summit Narayanganj Power Unit II, Ace Alliance Power and Summit Gazipur II Power -- had to borrow funds from sponsors of Summit Power and Summit Corporation to settle liabilities against LCs opened for earlier imports.
Payments for outstanding LCs as well as new LCs against the backdrop of the quick increase in the exchange rate led to higher expenses.
The company recently inked agreements with the government for continuing operation of three power plants -- one in Narayanganj, one in Chandina, Comilla and one in Madhabdi -- for two more years, with the condition "no electricity, no payment" tied to those.
Earlier, the plants used to get capacity charges from the public exchequer even if they remained shut down. That coupled with major maintenance works in two Gazipur plants also cut down profit, Mohsena Hasan said.
The company is now looking to make new investments to generate renewable energy, she added.
Summit Power had registered Tk 6.73 billion profit in FY22, the lowest in six years, as the three power plants had been out of operations for most of the time that year upon expiry of the previous power purchase agreement.
The company declared a 20 per cent cash dividend for the FY 22, reduced from 35 per cent cash dividend given for the previous year.
Incorporated in Bangladesh in 1997, Summit Power is a subsidiary of Singapore-based holding company Summit Power International (SPI).
Presently, Summit Power owns and operates 15 power plants across Bangladesh with a total capacity of 976 MW.
Summit Power along with its associate companies accounts for 10 per cent of the market.
Its under-construction project -- Meghnaghat II, a dual-fuel power plant, with a gross capacity of 590 MW -- is expected to go into operation next February.
The cost of setting up the plant is estimated at $499.25 million.
Listed in 2005, the company's share has remained stuck at floor -Tk 34-since October 10.