Taking money from foreign cos wasn't illegal in 2012
Imran counters Election Commission verdict in foreign funding case
---
Saturday, 6 August 2022
---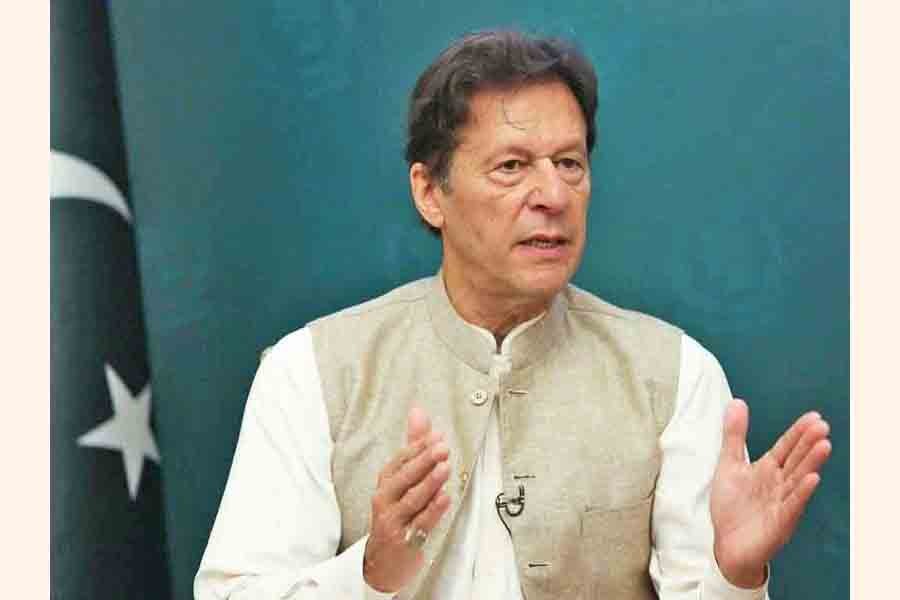 PTI chairman and former prime minister Imran Khan on Thursday hit back at the Election Commission of Pakistan's verdict in the PTI prohibited funding case saying that taking money from foreign companies wasn't illegal in 2012, reports DAWN.
In an address to supporters via video link, he said that the law which prohibited taking funds from foreign companies was introduced in 2017," he said. "But our case is from 2012."
His statement comes days after ECP declared PTI to be a "foreign-funded party". It had ruled that PTI had "wilfully" and "knowingly" received prohibited funding - which include a number of foreign donors.
In its order, the commission also said that it was "constrained to hold that Imran Khan failed to discharge his obligations as mandated under the Pakistani statutes".
Responding to all the allegations against him and his party today, the PTI chief said that his party had received money in 2012 from two fundraising dinners that Arif Naqvi had organised.
Referring to the Financial Times' report, he clarified that the businessman was charged with fraud six years later in 2018 and questioned how he could have known about that in 2012.
Imran added that there was nothing wrong with the PTI receiving money from a foreign company of Naqvi in 2012 since it was still allowed at the time, adding that it only became illegal later in 2017.
Furthermore, he claimed that PTI was the only party that raised money through political fundraising, unlike other parties (PML-N and PPP) which he said were run by "mafias".
"Across the world, political parties raise money by hosting dinners," he said, explaining that the donations during those events were later given to the party.
"Ask these two parties why don't they do this. I will tell you [...] because they know no one will give them money.
"And this is the reason why I kept demanding that all the parties should be investigated together. The nation should know how they raise money," he said, alleging that ECP's verdict proved that it couldn't see PTI succeeding.
"It is saying that that money raised by overseas Pakistanis is wrong. They are calling it foreign funding," Imran stated. "Tell me, if this money is foreign funding, then what about the remittances and the money that is sent for earthquakes and floods?
"The ECP is almost saying that money sent by overseas Pakistanis will be regarded as foreign funding," he said.
He also refuted the claims that he had signed an affidavit, claiming that it was a certificate.
Moreover, the PTI leader said that the ECP had played a "big role" in controlling elections in the country.
"The nation was turned into a slave through the commission. How? People come to vote and elect their candidates but ECP didn't let that happen," he alleged, adding that this was also why the electoral body had rejected the electronic voting machines (EVMs).
"I will tell you why they didn't let this happen. They knew that the secret hands that controlled the results would no longer be able to do so," Imran said.
Unfortunately, he regretted, "those forces are still controlling the country".