Quick power quibble
Tariff tangle troubles five plants' tenure extension
FE REPORT | Tuesday, 19 October 2021
---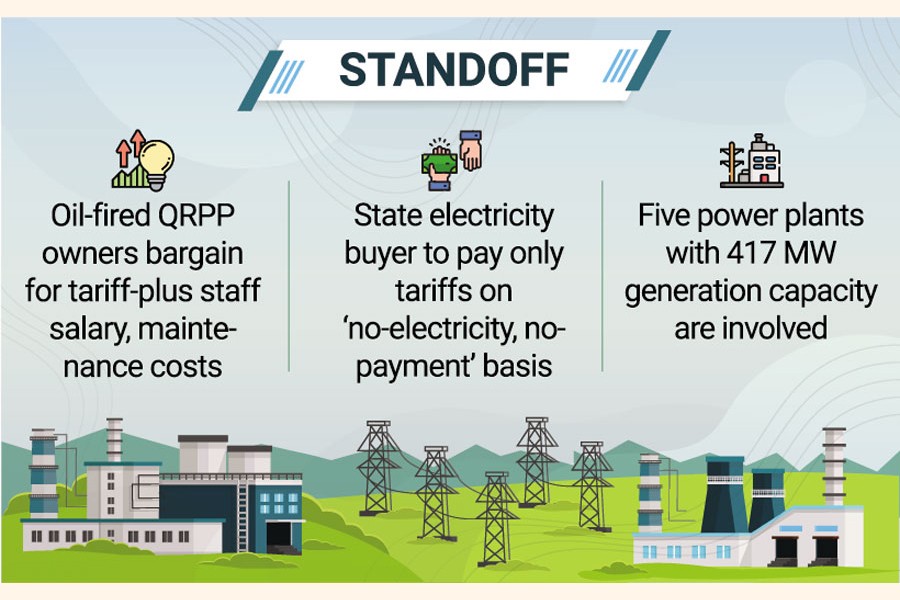 Tenure extension of the oil-fired quick-rental power plants (QRPPs) looks uncertain as tariff negotiations hit a deadlock over the entrepreneurs' hard bargain for extras, officials say.
The five oil-fired power plants' owners are seeking new tariffs along with costs of employee salaries and maintenance of their plants. But the electricity buyer is interested to pay only tariffs on the recently determined 'no-electricity, no-payment' basis, they said.
"If the plant owners do not change their stance over the new tariff rate, the state-run Bangladesh Power Development Board (BPDB) might not go for any fresh agreement extending their tenures for operation," a senior BPDB official told the FE Monday.
Sources say following appeals from the plant owners the government was considering a fresh extension for these power plants by two years under 'no-electricity, no-payment' mechanism.
Power Division under the Ministry of Power, Energy and Mineral Resources (MPEMR) initially had endorsed the proposal and instructed the BPDB to complete negotiations over new tariffs.
All these much-touted QRPPs came into operation around 10 years back in mid-2011 and got initial extension by five years in 2016 under the original contract terms, they add.
The power plants under extension considerations are Summit Power's Madanganj 102-megawatt (MW) quick-rental power plant, Orion's Meghnaghat 100mw quick-rental power plant, Dutch-Bangla Power's Siddirganj 100mw quick-rental power plant, and Khulna Power's Khulna 115mw quick-rental power plant and Noapara 40mw plant.
Some of these power plants are the directly listed companies or subsidiary of listed companies with Bangladesh's two bourses - Dhaka Stock Exchange and Chattagram Stock Exchange.
Owners of these power plants along with many tenure-expired and to- be-expired companies have long been lobbying with the government to get their plant tenures extended.
Under no-electricity, no-payment model the BPDB is to purchase electricity from such plants only when necessary to meet the domestic demand, which had been mounting while the quick-power remedy was conceived to feed power-hungry households and economy.
The BPDB will not have to pay capacity payments to the plant owners if it fails to buy electricity readily available with them.
Currently, only renewable energy-based power plants, especially solar-fired ones, are operational under the no- electricity, no-payment arrangement.
All these five power plants were awarded based on unsolicited offers under the Speedy Supply of Power and Energy (Special Provision) Act 2010 when the country was reeling from an acute electricity crisis.
The law has a provision of immunity to those involved with a quick fix.
The government also allowed entrepreneurs of these power plants duty-free import of furnace oil to run plants with a 9.0-per cent service charge along with import costs as an incentive, said a senior power division official.
Currently, there are a total of 58 furnace oil-fired plants operational in the country with a cumulative electricity-generation capacity of 5,712 megawatts, against the country's overall electricity-generation capacity of 21,395 megawatts.
Total operational power plants are, however, 143 as of February 9, 2021, according to the BPDB statistics.