Ten most-traded cos grab 38pc weekly turnover on DSE
Sunday, 16 October 2022
---
FE REPORT
The ten most-traded companies accounted for 37.67 per cent of the weekly market turnover on the Dhaka Stock Exchange (DSE) last week, led by Orion Pharma.
The premier bourse posted a weekly turnover of Tk 48.33 billion, with these 10 companies generating a turnover of Tk 18.20 billion.
Orion Pharma contributed 8.77 per cent, or Tk 4.24 billion, to the weekly market turnover.
During the week, the company's share price declined 9.66 per cent, closing at Tk 133.70 each on Thursday.
Bangladesh Export Import Company posted the second highest turnover of Tk 3.63 billion or 7.51 per cent of the weekly turnover.
Its share price declined to Tk 130.20 each from the previous week's closing price of Tk 131.30.
Of the turnover leaders, Eastern Housing, Indo-Bangla Pharmaceuticals and Orion Infusion were also on the list of top 10 gainers.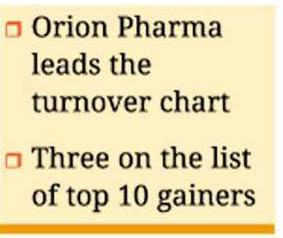 Eastern Housing had witnessed the third highest turnover of Tk 2.16 billion, and its share price rose 15.44 per cent last week to close at Tk 127.80 each.
Sonali Paper & Board Mills logged the fourth highest turnover of Tk 1.63 billion. Though the company was not on the list of top gainers, its share price jumped 12.18 per cent to Tk 784.50 each from the closing price of the previous week.
Indo-Bangla Pharmaceuticals posted a turnover of Tk 1.22 billion, the fifth highest. The company's share price closed at Tk 27.40 each, having increased by 30.48 per cent from the closing price of the previous week.
JMI Hospital Requisite Manufacturing posted a turnover of Tk 1.12 billion, the sixth highest, while its share price fell 4.38 per cent to Tk 124.30 each from the closing price of the previous week.
The seventh highest turnover amounting to Tk 1.09 billion was recorded by Orion Infusion. The company's share price rose 26.22 per cent to close at Tk 951.30 each.
Orion Infusion's share price has had a remarkable increase of 986 per cent over the last three months, prompting the securities regulator to ask the DSE for a probe into the company's unusual price hike.
The premier bourse has also been asked to review the company's audited and unaudited financial statement.
The remaining turnover leaders, Bangladesh Building Systems, Sea Pearl Beach Resort & Spa, and Paper Processing and Packaging posted a turnover of Tk 1.09 billion, Tk 1.06 billion, and Tk 963.06 million respectively.
[email protected]