Tigers to play only warm-up match ahead of lone Test against Zimbabwe
Friday, 11 June 2021
---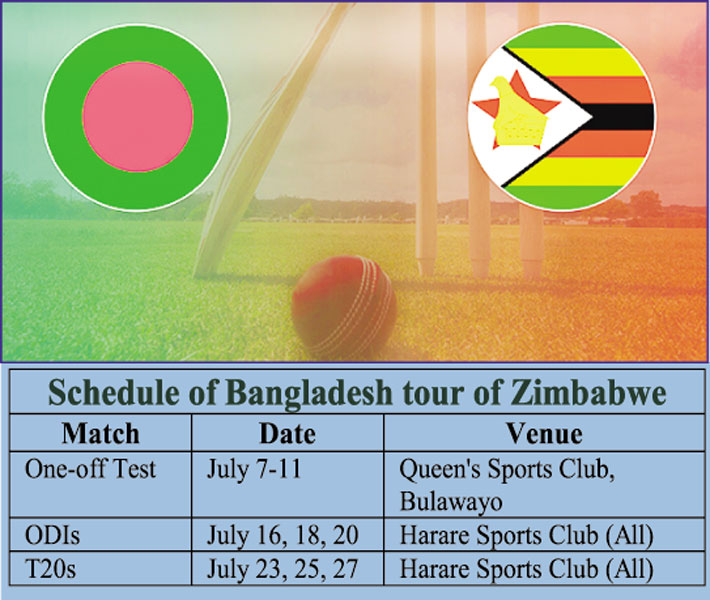 Bangladesh will get to play a warm-up game ahead of the lone Test in the upcoming tour of Zimbabwe after the host nation agreed to cut short the quarantine period.As such, the visitors will now be able to squeeze in a two-day warm-up fixture before the one-off Test, due to start on July 07, at the Queen's Sports Club, Bulawayo, reports Cricbuzz.
As per the agreement, Bangladesh are scheduled to arrive in Zimbabwe on June 29, spend the next day quarantining before starting preparations for the Test match from July 01 onward.
"We will have to do one-day quarantine and later we will do our regular activities (from July 01)," Akram Khan, BCB cricket operation chairman, told reporters on Wednesday.
Bangladesh are touring Zimbabwe for a full series consisting of one Test, three one-day internationals and three twenty20 internationals. While the Test match will be played at Bulawayo, Harare will play host to the entire white-ball segment of the tour. The warm-up game is of vital importance for the visitors, who last featured in a Test match back in April-May 2021, against Sri Lanka.
The national players are currently playing in the Dhaka Premier League (DPL), one of the prominent domestic T20 tournaments of Bangladesh. The tournament is scheduled to end on the 26th of June, giving the Test team very little time in terms of a camp at home.