Tissue paper industry thrives on growing demand
Yasir Wardad | Wednesday, 18 April 2018
---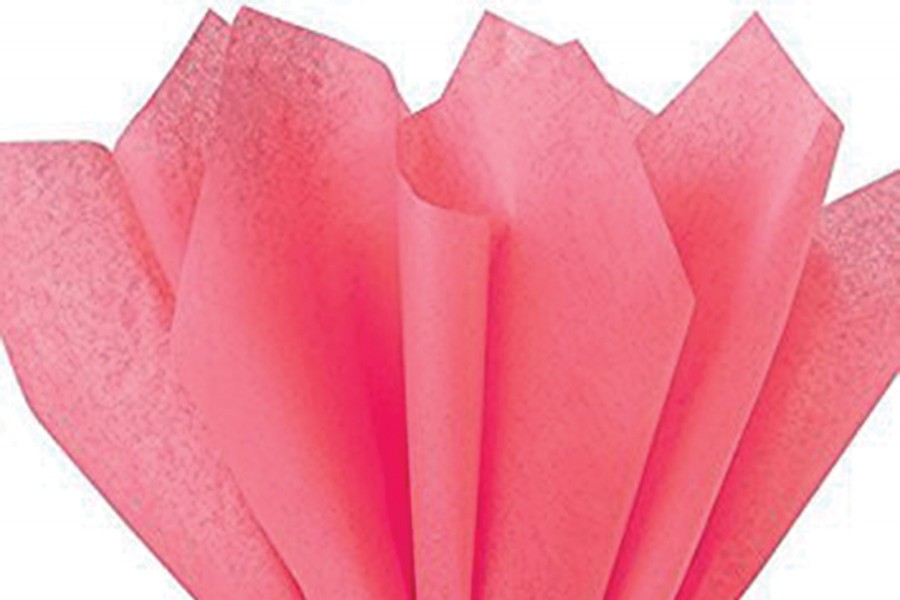 The tissue paper industry, mostly led by local factories, has kept booming in the country due to a change in the people's lifestyle with rising incomes.
The paper napkin turned into a Tk 15.0 billion market from Tk 500 million in the past 10 years with 80 per cent of the people using tissue papers at least once a month, according to the Bangladesh Paper Mills Association (BPMA).
And 50 per cent of the factories are now producing its raw material 'paper pulp' locally which helped the sector raise maximum value addition, sector insiders said.
More than 1.0 million families use toilet paper rolls every week and facial tissue box every month while 25,000 restaurants consume 10.0 million pieces of table napkin annually which helped maintain a 25 per cent growth, they added.
The highest demand for tissue paper was hardly 3,500 tonnes in 2007 while the country's 43 pulp and paper companies produced 10,000 tonnes in 2017.
The local tissue paper industry meets the demand for toilet paper, facial tissue, kitchen towels, table napkin, and wrapping tissue, incentivised by diversified consumers of the country.
Md Mozammel Hossain, head of project of Bashundhara Multi-Paper Industries Ltd, a sister concern of Bashundhara Group, said his company is now producing 4,000 tonnes of tissue paper alone both for local and foreign buyers.
Rapid urbanisation is leading the industry, he said, adding that the size of the market will increase tenfold in next five years due to growing use of the product even in rural areas.
However, Bashundhara Group has started setting up a packaging paper manufacturing industry using latest technology to produce high quality products as import substitutes.
"Initially, we are going to set up two paper manufacturing units in Bashundhara Special Economic Zone in Keraniganj," he said.
The project will be implemented at a cost of Tk 40.0 billion, he added.
Bashundhara holds 60 per cent of Bangladesh's paper napkin market and exports around 500 tonnes of tissue products annually to various countries in Asia, Africa and Middle East.
In 1980, local company Kallol Group first started importing 'Fay' tissue from the UK and introduced it to different restaurants and party centres.
It was the people's first encounter with tissue paper in the country when only five-star hotels imported tissues for their foreign guests from Procter & Gamble, Lila Tissue, Paseo, Tempo and so on.
Imports by 20 companies now cover only 5 per cent of the total demand, said Kader Kiron, Secretary of Bangladesh Dokan Malik Samity, an association of 2.5 million shops in the country.
More than 25,000 restaurants in the country use one or two-piece tissue box a day. Some leading conglomerates have entered the sector recently following its demand and growth, he said.
Meghna Group of Industries, one of the leading conglomerates in the country, has started producing tissue rolls from its Tanveer Paper and Pulp Industry few years back which is producing 'Fresh Tissue'.
The company has entered the market with a big chunk of production and broad market promotion. 'Meghna Pulp and Paper Mills Ltd', another sister concern of the company, has also entered the napkin market recently.
Tanveer Kamal, director of Meghna Group, said more than 1.0 million families now use toilet paper rolls every week.
The families along with 0.2 million public and private offices use facial tissue box at least a month.
His company is producing 2,000 tonnes of tissue and has targeted to grab a major market share in next few years, he said, adding that local companies move to recycle used paper which will help cut water usage by 50 per cent and energy by 40 per cent.
Prices of 'toilet paper' range between Tk 16 and Tk 22 while facial paper box between Tk 38 and Tk 42, table paper between Tk 48 and Tk 52, pocket tissue between Tk 8 and Tk 10.
In 2006, East Asia Group started manufacturing tissue paper with its brand name 'Bangla.'
It was a joint venture with the Japan-based Nissho Koeki Tissue Papers Company.
Director of East Asia Group Md Shamsul Alam Bhuiyan said the global growth of tissue roll use was 3.2 per cent in last 15 years, but it was more than 25 per cent in Bangladesh.
He said as the number of health-conscious people of Bangladesh is growing day by day, everyone prefers to use tissue papers which are hygienic and soft.
People have become now choosy as they prefer sanitised, soft and absorbent, more whiteness in tissue paper, he said.
However, the factory depends on imported pulp from the USA in this regard.
Another company, Janani Paper Mill, has entered the market recently with the production capacity of 500 tonnes.
Md Abul Kashem Sarker, chairman of Janani Group, said tissue paper convertors are shifting to fully automatic packaging machines to meet the growing demand.
Rising demand even in rural areas is now working as a key penetration for the market hunters.
The growth in semi-urban and rural areas was 8.0 per cent (2010-2017) which might cross 20 per cent in next five years, he said.
Mr Sarker said lower duty on paper pulp import has also helped promote the sector.
The global production of tissue paper is 21 million tonnes of which North-American people consume 12 million tonnes alone.
The export-import of tissue paper rolls was 7.5 million tonnes worth US$ 30 billion in 2016.