Top dividend provider Reckitt Benckiser looks to overcome adversities soon
Its profit dips 14pc mostly due to costlier raw materials
---
BABUL BARMAN | Wednesday, 21 December 2022
---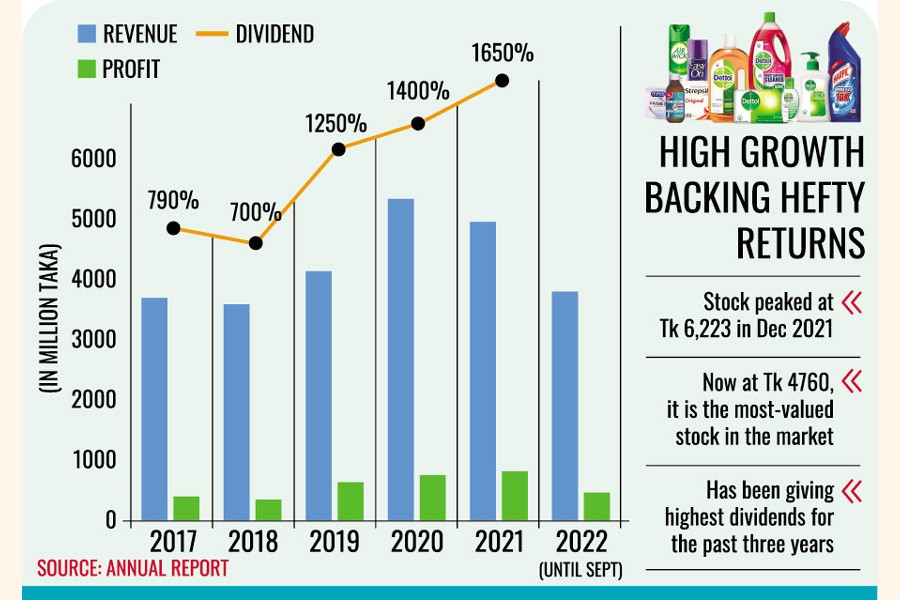 Reckitt Benckiser says it will soon bounce back overcoming short-term challenges that caused its profit fall by 14 per cent year-on-year in the nine months through September.
The multinational company that sells popular consumer products, such as Dettol, Strepsils and Harpic, has stood strong in terms of sales revenue. The drop in income was mostly due to a 21.23 per cent jump in the production cost.
One of the most familiar and trusted global consumer brands in the health and hygiene category, Reckitt Benckiser had seen its business growth accelerate after the Covid outbreak.
As the pandemic waned and the Russia-Ukraine war began leading to a global economic slowdown, consumers' purchasing behavior changed. Around the same time, raw materials became costlier in the global market and the local currency cheaper against the dollar.
Company Secretary Md Nazmul Arefin said the prices of key ingredients, particularly soap noodles, had been record high narrowing the profit margin.
Meanwhile, the company's stock price also plunged 23 per cent from its peak at Tk 6223 a year ago. Though it has remained at the floor at Tk 4,760 since early October, it is the most-valued stock in the market.
The second most costly stock is Unilever Consumer Care priced at Tk 2,849.
Stock investors knew that Reckitt Benckiser's profitability was higher during the pandemic because its top-selling products are hygiene-related, market insiders said.
The company declared the highest cash dividends among the listed companies in three years in a row since 2019 enticing investors into the stock. That resulted in the share price go through the roof.
The hefty dividends indicated the financial strength of the company, said Mostaque Ahmed Sadeque, former president of the DSE Brokers Association (DBA) of Bangladesh.
The three-digit cash dividends were a good sign for the market too, he said. When listed companies disburse good dividends, they attract investors.
Most listed mutational companies have declared generous cash dividends year after year as their brand value, better management and product quality have helped them boost profits, Mr Sadeque said.
Reckitt Benckiser's profit dropped to Tk 428 million in January-September 2022 from Tk 497 million a year earlier. As a result, the earnings per share (EPS) declined to Tk 90.52, from Tk 105.20.
However, the sales revenue has been down only by 1.05 per cent year-on-year to Tk 3.77 billion in January-September this year.
Listed in 1987, the company manufactures and markets household products and toiletries, sanitization products, pharmaceutical and food products.
In 2019, Reckitt widened its market share in the bar soap category and is now holding the top position in the toilet cleaner category.