Two vessels collide in Chattogram port
Our Correspondent | Saturday, 15 June 2019
---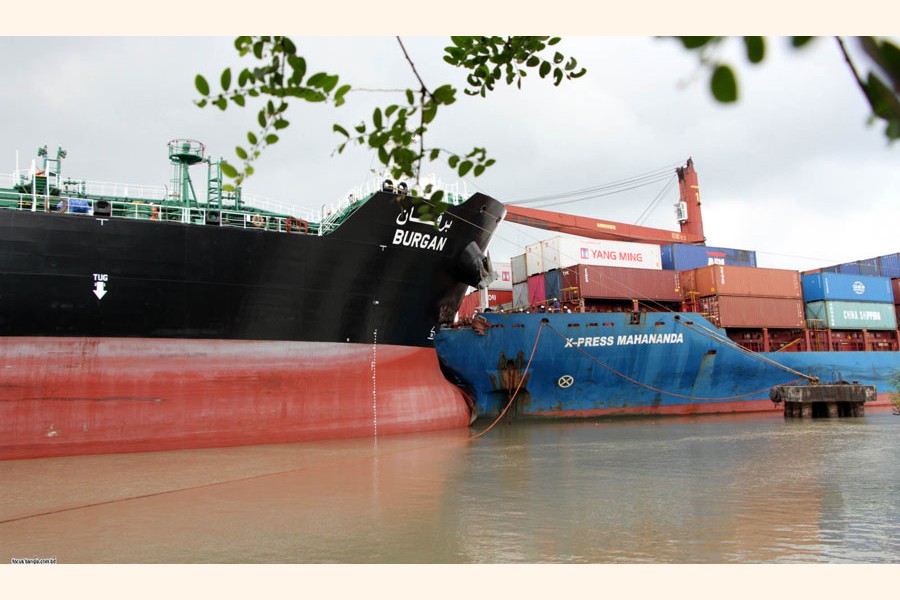 CHATTOGRAM, June 14: Two vessels collided at the mouth of the Karnaphuli at the Chattogram seaport at around 8.30 am on Friday.
The accident took place when one container carrier ship collided head-on with an oil tanker at the river mouth. There were no casualties reported in the accident.
Sources said MV X-press Mahananda, a container carrier ship, was coming to a jetty from the outer anchorage and at the same time another oil tanker, MT Burgan, was leaving it.
Omar Faruk, secretary Chittagong Port Authority (CPA), said, "MV X-press Mahananda, a container carrier ship, was carrying 744 containers from Sri Lanka while MT Burgan was carrying oil from Kuwait. The two ships met the accident at the mouth of the Karnaphuli at around 8.30 am today."
"However, five tug boats of CPA recovered the ships after collision. The movement of ships remained suspended from 8.30 am to 11 am due to the accident. After recovery of ships, the port channel reopened at 11 am today," he added.
Sources with the CPA said the oil tanker MT Burgan was berthed at the No 7 Dolphin Jetty while the MV X-press Mahananda was sent to the Dry Dock.
The CPA has formed a three-member investigation committee to find out the cause of the accident and the losses. The committee is headed by Deputy Conservator of CPA Captain Faridul Alam. The committee will submit the report within three days, said Omar Faruk.
Ships have frequently been colliding with each other and running aground at the Chattogram port's outer anchorage and approaches in the recent years, raising concerns among ship owners, charterers, shipping agents and other stakeholders.