U-turns big hindrances to city-dwellers
Sunday, 15 May 2022
---
As a seasoned bus driver on Dhaka city routes, Md Harunur Rashid is no stranger to the usual plights of moving about in the city.
Even he believes the U-turns that are introduced to reduce the traffic situation are having a reverse effect, reports bdnews24.com.
Harunur drives for Ajmeri Glory Paribahan services that operate from Dhaka's Sadarghat to Konabari on Gazipur route. That route covers almost all the 10 U-turns that are active in Dhaka.
In his eyes, these U-turns are nothing but a hindrance.
"This [Sadarghat-Konabari route] has always been one of the busiest routes in the city. But after the introduction of the U-Turns, things have become unbearable for everyone," he said.
Feedbacks from city planners and public transport are largely the same, so much so that the city authorities have been actively considering removing the U-turns, just after a year of introduction.
The U-turns, a pet project of the late Dhaka North mayor Annisul Huq, cost the city Tk310 million. The city took seven years to finish the project and finally opened them in April 2021.
Now, Huq's successor Atiqul Islam is considering only keeping the U-turns that are "beneficial".
"We're assessing all the pros and cons now. The unnecessary ones will be removed, in time," he said while speaking to the news agency.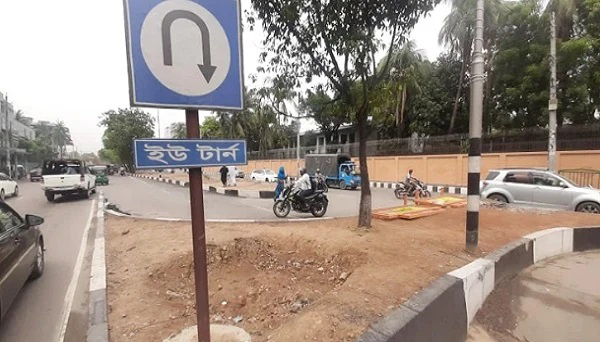 People interviewed for this article said the two U-turns in Uttara were somewhat effective, thanks to the area's wider roads.
However, they no longer exist due to the ongoing Bus Rapid Transit construction project.
On Thursday, this correspondent visited the Kakoli intersection in Banani, the busiest point during morning and evening rush hours in Dhaka. The city created two U-turns there in June last year.
They no longer exist either, at least in reality.
When approached, an on-duty traffic sergeant Mohammad Musa told the news agency that the U-turns were removed by the authorities in April, during Ramadan.
"They are of no use," he said.
Experts believe inadequate planning is adding to already hellish traffic congestion. Many also believe since the traffic realities in Dhaka have changed so much since 2015, when the idea was first introduced, no longer are the U-turns an effective measure to tackle the city traffic.
Last month, the Ministry of Local Government and Rural Development tasked a committee to determine what effect the U-turns have on Dhaka's traffic situation. The committee is yet to report.