Underappreciated role of nurses during pandemic
Hasnat M Alamgir | Friday, 8 July 2022
---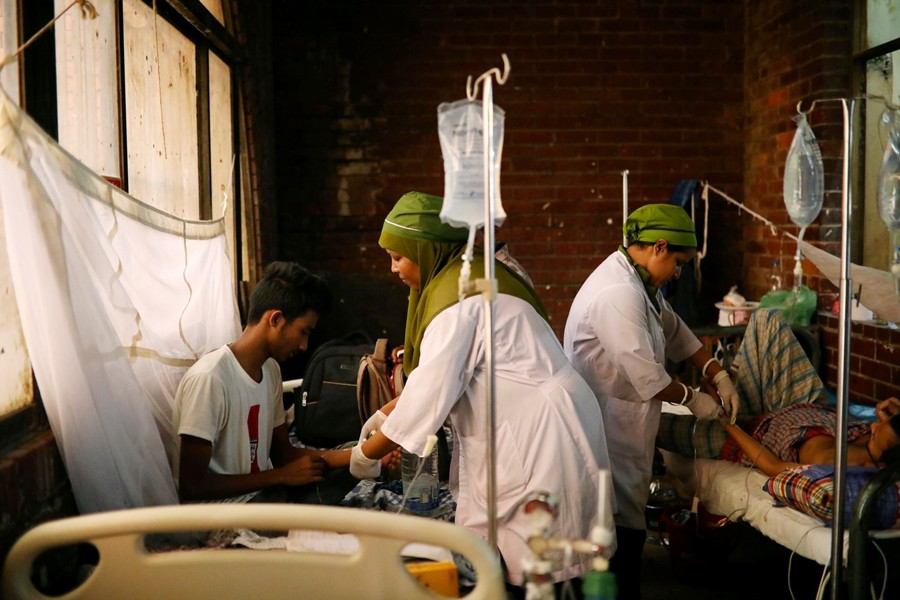 Nurses in Bangladesh play a vital role in delivering patient-care services and achieving desired patient-outcome measures in healthcare settings. Their roles, importance, and responsibility turned out to be particularly relevant during the current Covid-19 pandemic, where they were leading in testing, patient triage, care management, vaccination as well as in public education and awareness-building campaigns.
According to the World Health Organization (WHO), the care nurses provide includes "the promotion of health, the prevention of illness, and the care of ill, disabled and dying people". And "nursing encompasses autonomous and collaborative care of individuals of all ages, families, groups, and communities, sick or well and in all settings". Nurses did most of these very well during this pandemic in Bangladesh - both in the public and private sectors.
The roles nurses have in many other countries are quite broad and they are active in developing and delivery of primary healthcare, including health promotion, disease prevention, treatment, and rehabilitation. However, unlike in high-income countries, nurses in general rarely have the opportunity for strategy making or policy formulation in Bangladesh, rather they mostly work on direct care-giving endpoints and remain engaged almost always in acute care-delivery cases. However, their role in health education, promotion, and awareness was emphasized and acknowledged better by all during the current Covid-19 crisis in Bangladesh.
Nurses, according to many reports, make up around half of all healthcare professionals across the world, and according to available research evidence the quality of their evaluation and consequent care has been proven to be related to better health outcomes and satisfaction for the patients. But they often have to compromise their health, safety, and wellbeing at their workplace in Bangladesh and other low-and middle-income countries (LMIC) for various reasons. They work in a resource-poor environment, the patient load is very high, not adequately supported by healthcare-delivery teams of all disciplines, and they are often ignored, if not disrespected by the medical doctors in making patient-care- related discussions or clinical decision making. There are cultural, organizational, and economic factors that work as barriers to ensuring their health, safety, and wellbeing.
According to data from the World Health Organization (WHO), an estimated 115,000 healthcare workers died from Covid-19 only between January 2020 and May 2021. It can be stated with confidence that at least half, if not more, of these deceased workers were nurses or nursing assistants/aides because of their intimate and direct contact with the patients. According to the International Council of Nurses (ICN), millions of nurses were also infected with the virus since the start of the pandemic. However, these numbers are likely to be underestimated as the actual numbers of fatalities and infections among them remain unknown for a lack of comprehensive systematic surveillance system- particularly so in LMICs. Nursing occupations were relatively at much higher risk as US CDC data suggest. Data from six US states show that among the total number of Covid infections, 32.1 per cent were nurse aides and 29.5 per cent were professional nurses, compared to 3.2 per cent of physicians. And for Covid-associated hospitalisations, data from 13 US States suggest professional nurses accounted for the largest group (35 per cent), followed by nurse aides (15 per cent) compared to physicians (5 per cent).
These inequalities in Covid infections and deaths are due in part to a lack or shortage of personal protective equipment (PPE); in LMICs when these were made available, the quality and effectiveness were often not tested to optimise their protective capacity.
Also, under the usual employment and working conditions, healthcare workers including the nurses are known to be at risk for depression, stress, anxiety, burnout, or insomniah---and the long duration of the pandemic must have drastically impacted their mental health as they stood in the frontline of this crisis. A systematic review study published recently summarised findings from thirteen research studies conducted on healthcare workers during the Covid-19 outbreak and revealed a prevalence of anxiety to be 23·2 per cent, depression to be 22·8 per cent and insomnia estimated at 38·9 per cent. Among the healthcare workers, females and nurses exhibited higher rates of mental health symptoms compared to male and medical doctors. In Bangladesh most nurses are female and their mental health must have deteriorated during this pandemic. Alas, the mental health of the nurses and other healthcare workers has never been on the radar of anyone.
Nurses face other workplace hazards as well: patient lifting and transfers-related musculoskeletal injuries, needle stick and sharp
injuries exposing blood/body fluids that may contain HIV, hepatitis B and C virus among others, exposures to chemical agents, radiation, or medical wastes, and workplace harassment and violence.
In Bangladesh, nurses are at additional risk at their workplace arising from patient overload, understaffing, the poor ratio of support staff and nurses, the poor ratio of doctors and nurses, meagre supply of and accessibility to assistive or supportive equipment and tools, unhygienic working conditions, long working hours, harassment and abuse by owners or supervisors, doctors, colleagues, and patients and their relatives.
Nurses can only provide quality patient- care services and contribute meaningfully to their other duties and obligations when their work environment is safe and supportive. Nurses' roles and work are essential in the healthcare system of any country, including Bangladesh, and it has been verified very well once again during the pandemic. Yet, the pandemic has also exposed the health, well-being, and safety vulnerabilities faced by them worldwide and this resulted in an unusual, high number of infections and deaths among them. Bangladesh must do everything that is needed to protect its nursing workforce, particularly during a pandemic.
Hasnat M Alamgir is a Professor of Public Health.
[email protected]