WB to prepare next CPF for Bangladesh from Jan
10-plus growth rate from 2024, says Kamal
---
FE REPORT | Monday, 4 November 2019
---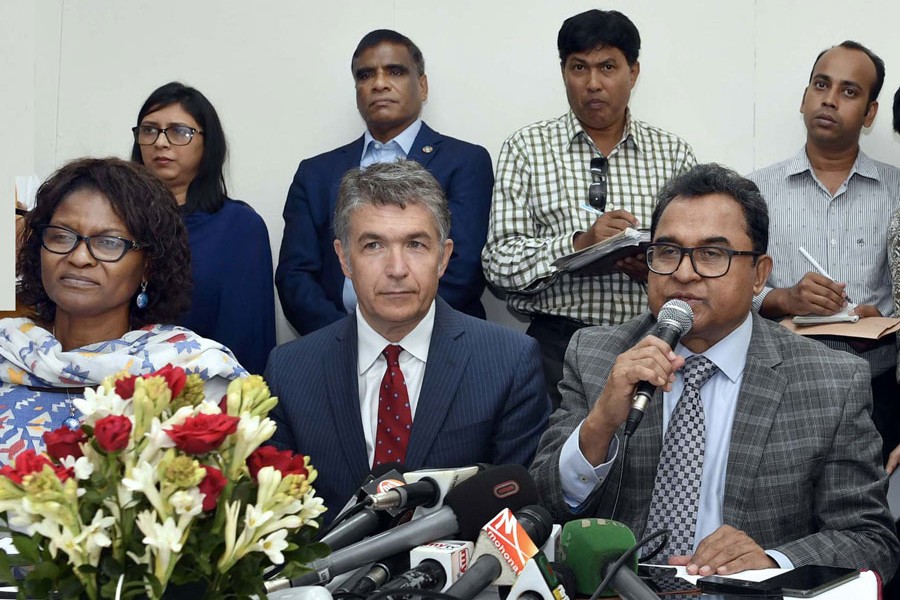 World Bank Country Director Mercy Miyang Tembon on Sunday said the bank is going to prepare a four-year country partnership framework (CPF) for Bangladesh from January, 2020.
"In the framework, it will be determined where the money will go in Bangladesh in the coming years," she said while talking to the reporters after a luncheon meeting between the high-ups of the World Bank Group and the government at a city hotel.
A high-level delegation of the Bretton Woods institution comprising its nine executive directors and two alternate directors are currently visiting Bangladesh.
Responding to a question about the future development plan of the global lender for the country of over 160 million population, Ms Tembon said they are at the end of the country partnership framework which was prepared for a period from 2015 to 2019.
"I am so happy that we delivered almost all the projects. We're in the last lap of doing that. From January 2020, we are going to start preparing next country partnership framework for four years. That is where we will determine exactly where the money will go," she said.
Terming Bangladesh's higher economic growth impressive, World Bank executive director Patrizio Pagano said the country achieved remarkable progress in terms of reduction of poverty which is the business of the bank.
"There are still a high number of people living in poverty and we hope the higher growth will be as inclusive as possible and shared among the people of the country," he said.
He also thanked the people of Bangladesh for giving shelter to a large number of Myanmar nationals.
Reply to a query, Mr Pagano said in order to achieve higher growth target, Bangladesh needs to raise its own resources and reforms the revenue base to finance the development needs.
Alongside physical infrastructure, the country needs to invest in human capital, he said.
Regarding the Rohingya issue, the executive director said the New York-based lender is not in the business to find political solution. "Such solutions are to be found by the countries themselves or international organisations like the United Nations."
He added: "We are here to bring development. So, whatever the solution the countries will find, we're ready to help through regional financing and additional projects."
Welcoming the delegation, Finance Minister AHM Mustafa Kamal said the country maintained a higher growth rate of over 8.0 per cent and it is expected to grow more than 10 per cent from 2024.
"They (the bank) will be supporting us towards our journey for a prosperous and peaceful nation with no discrimination as dreamt by the father of the nation," he said.
Principal coordinator (SDGs affairs) under the Prime Minister's Office Abul Kalam Azad and Bangladesh Bank governor Fazle Kabir, among others, were present at the luncheon meeting.