Women on move
What it takes to be in driving seat
MUNIMA SULTANA | Tuesday, 7 March 2023
---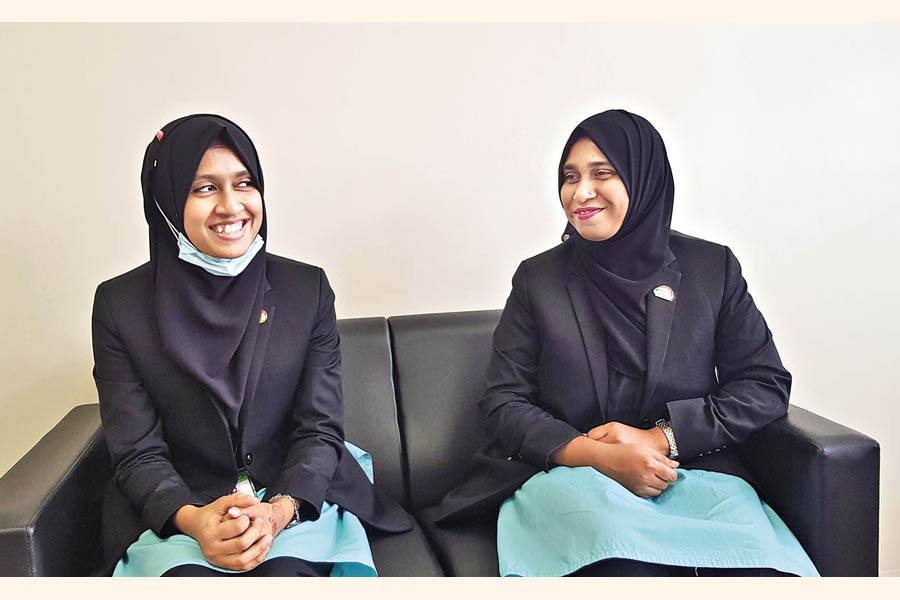 Merely the term 'metro rail' is what allured two young ones from the womenfolk -- Moriom Afiza and Asma Akther--to apply when recruitment for Bangladesh's maiden mass rapid transit (MRT) project was advertised. They applied for the post of operator and station controller as they were looking for job after finishing studies. Nothing did occur to their mind, on the spur of the moment, as to who were applying or whether their female friends of their batches showed interest or not. The rest is history-- they become first two females in operating trains on the MRT-6 line whose first 11.7-kilometre overhead track was opened for commuters on December 29.
Both Moriom and Asma broke the ice of mindset that usually is generated in society for females, like in many other challenging technical sectors -- 'whether MRT be the place for women or not, or being a woman will it be possible to work in this new and sophisticated transportation system'. They felt metro rail to be a dream place for working as well as got the inspiration from insight 'why not try' first.
"I found few of my friends applying for the post of train operator for MRT 6 as physics, chemistry and maths were sought as prerequisites for the job. As I had all these subjects just thought why not me. So I joined my male friends who were then applying, without noticing that none of female friends was interested in it,' Moriom as to share the feelings of the moment.
Moriom, a graduate from Noakhali University of Science and Technology in Applied Chemistry and Chemical Engineering, was one of the two females who operated the train carrying the Prime Minister on inaugural ride on December 28. Asma, however, ran the first train that crossed the Uttara North station after the Prime Minister had flagged off by waving green flag on the day. Since then, they have operated on average four to five rounds of trips every day during operation hours.
Though Asma was in the first batch of recruitment made by the MRT company, Dhaka Mass Transit Company (DMTCL), for the post of station controller, training procedures made Asma second as station controller's work is also train operation.
"As metro rail stands totally on electricity, my knowledge on acceleration deceleration or speed earned from Physics guided and inspired me to apply for the post of station controller," she said to the FE, elaborating on what it took for her to sit in the driving seat on metro train.
A master in Physics from Dhaka University, Asma also did not notice who were applying or even asked herself why her female classmates did not show interest.
She, however, found few more females during her interview but was selected as lone female in the first batch of 36 to man the operation of the modern commuter train.
The FE talked to the two ladies at the Uttara North Station after completion of their day's train operation on the occasion of the International Women's Day--the occasion that drums up the folk's cause and the mark they are making in all fields.
Both have to go through some challenges afterwards but proved their skills to circumvent. Asma married few months before joining in the DMTCL, the state-owned company, to plan, implement and operate MRTs and became mother before her training was completed.
They, from the beginning, were courageous and ready to take steps in all situations, have to go through various tests, including physiological, to prove sound mental condition and competent for the posts like male colleagues.
They said being among the first few batches, a friendly relation has been built up for each other which works to overcome challenge. Both also expressed gratitude to the DMTCL for being cooperative in all circumstances.
But the presence of female was felt after joining. ''Actually I feel want of presence of females during my first training in Chattogram Railway which I had to take part within four days after joining and realized I was alone in the team of 24 males," said Moriom to state presence of female fellow gives comfort in some cases.
When she first met Asma 'apa' during the rolling-stock training in Dhaka soon after ending the Chattogram training, she felt good, never having the feeling of being alone in this job of thrills and spills.
Asma said the day her six-month maternity leave ended, she got email at night from the company to join training at MRT depot site the following day. It was challenging but Asma also went to Japan keeping her 10-month baby at home to become part of the history. She also took training in India when she was pregnant at the time of coronavirus pandemic.
It was initially hard to capture knowledge or skill in the new kind of technology though it is not a matter for other parts of the world, she says. But, with the time passing and help of all others, including Japanese instructors and fellows, the job has now been easy.
During her pregnancy period, Asma mostly worked in different packages of MRT and headquarters.
"Actually challenges or merits- demerits remain in all sectors and most circumstances," she shared.
Both Moriom and Asma have been groomed up in middle- income families and mostly stayed in Tongi and Khilkhet of Dhaka respectively. Moriom said her mother had initially some worry since the MRT is new to Bangladesh but got enthusiasm from all. Asma encouraged her all the time from her own and husband and overcame the challenges of trainings with pregnancy and thereafter childbirth.
"it was my father's ideology that when her daughter wants to go ahead, none has the right to let her behind," she went on sharing her ballad of getting in the driving seat of train that has become a joy ride for many for now.
Asma joined DMTCL on August 21, 2019 and Moriom on November 2, 2021. But, during the trainings, they have been very close, facing all kinds of professional challenges together. Both had initially some nervousness in operating MRT but experiences made them confident.
They, however, shared the challenges ahead to ensure safety as it is core of the operation. Asma said the Japanese training on Safety made them aware of the risks but knowing and handling practically at the moment is different.
"we are serving people and it is our prime duty to make system operational. So all our efforts are now on that area," said Asma. Likewise, Moriom said success depends on where "we can go forward when the company itself is new".
"We have to ensure safety of people and learned from Japan, on a case-to- case basis, as they have already faced those situations. So, learning and practical moment are quite different in which we have challenges ahead for us."