Z category stocks ride high, raising analysts' eyebrows
Regulator acknowledges "abnormal price surges" but yet to take any action
---
BABUL BARMAN | Monday, 6 March 2023
---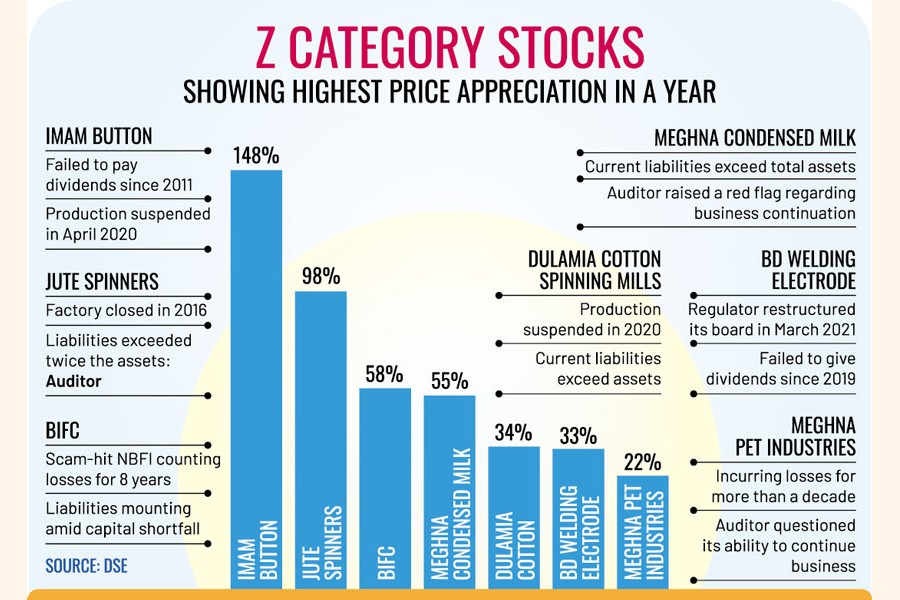 More than 15 of the 24 Z category companies rose abnormally on the Dhaka Stock Exchange (DSE) in the year through March 4 without any reason for investors to be inclined to bet on the stocks.
Having operations suspended, the companies saw losses piling up for years with no sign of recovery in the foreseeable future. Still, the stocks made it to the top gainers' lists frequently at a time when investors turned away from many fundamentally sound securities stuck at floor prices.
Meghna Pet Industries increased 10 per cent on Sunday, becoming the day's top gainer.
Both Meghna Condensed Milk and Meghna Pet Industries -- two concerns of Meghna Group of Industries - have been witnessing a rally in recent months though they failed to give dividends to shareholders for many years due to losses.
Companies fall into the 'Z' category after they have failed to declare dividends for two years straight, or failed to arrange annual general meetings on time or have kept their factories shut for six months in a row.
Such non-performing stocks jumped as high as 140 per cent in the year.
For example, Imam Button Industries soared 148 per cent to Tk 82.80 in the year through Sunday though the company did not give any cash dividend to shareholders for a decade.
The non-operational Jute Spinners' stock more than doubled to Tk 259.9 during the same period despite the fact that its production has remained suspended for more than six years.
Company secretary ATM Mostafa himself expressed shock at the inexplicable price surge. "We do not have any undisclosed price sensitive information," he said.
Why did the prices surge?
The irony is that the Z category stocks performed better on the DSE when the benchmark index of the bourses remains bearish.
Market analysts suspect that manipulation is the reason behind the "abnormal price" surges.
The regulator does not take any action at the early stage of an unusual rally. On several occasions, inquiry committees were formed but their reports never came to light.
General investors keep chasing stocks as they fly on the bourses to make capital gains overnight, a tendency that manipulators cash in on by selling off overvalued stocks to general investors.
The Bangladesh Securities and Exchange Commission (BSEC) imposed fines on many wrongdoers. The penalties were not enough to prevent repetition of such events.
Meghna Condensed Milk soared 55 per cent in the year to close at Tk 30.20 on Sunday. Its loss amounted to Tk 36.51 million in the FY22.
Its current liabilities exceed assets by Tk 478.64 million, according to its audited financial statement.
The audit firm has raised a red flag.
It said Meghna Condensed Milk repeatedly incurred losses for several years and showed negative equity of shareholders, negative retained earnings, negative net asset value per share and negative profit.
These events or conditions indicate that it is uncertain if the company will be able to continue its business, added the auditor.
The company's current bank loan stands at Tk 642.78 million. The auditor said the company's classified loans and liabilities might be higher than what had been shown.
"We did not find an updated bank statement to confirm the amount."
Meghna Pet Industries' share price peaked at Tk 42 during the year.
It reported a net loss of Tk 3.67 million in the year ended in June 2022.
It also disclosed negative equity, negative retained earnings, and negative net asset value per share.
Meghna Pet Industries' classified bank loan comes to Tk 148.50 million.
The auditor is of the same opinion about the business of Meghna Pet Industries as of Meghna Condensed Milk.
Company officials could not be reached for comments as neither of the businesses provided any contact number of company secretary.
Regulator's role
Market operators say the junk stocks started climbing up when the securities regulator took a series of moves to bring low-performing companies back on track through consultation and board restructuring. Some companies had their boards restructured in 2021.
The moves are yet to bear any fruit.
A top official of the BSEC, wishing not to be named, said the surveillance team of the regulator was keeping an eye on trading every day.
"It is true that these stocks rose abnormally, so I will talk to the surveillance team. I hope the team is also aware and if any malpractice took place, it will take steps as per the rules," he said.