Zayeda takes early lead in GCC polls
Friday, 26 May 2023
---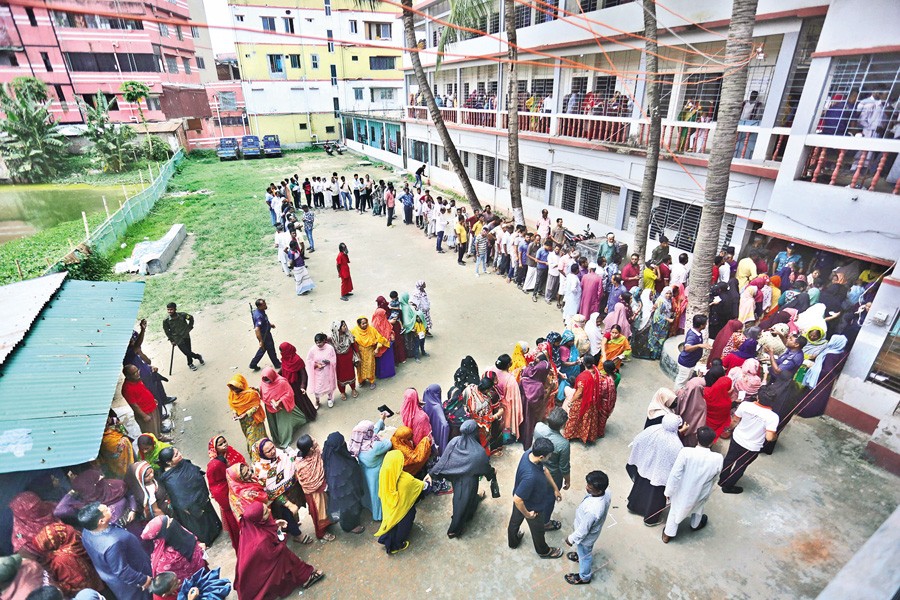 Zayeda Khatun, an independent mayoral candidate, took early lead in the crucial Gazipur mayoral race till the filing of the report at 10.0 pm, report agencies.
Zayeda, the mother of expelled ruling-party leader Zahangir Alam, secured 68,800 votes in 133 out of 480 centres, according to the results available at 10 pm, according TV news.
Her nearest rival, Azmat Ullah Khan of the ruling Awami League, trailed with 58025 votes.
However, this result was seen more than one hour on the TV screen.
Zahangir Alam, former mayor and son of Zayeda Khatun, alleged a conspiracy to rig the vote by delaying the results in the mayoral polls.
Speaking to reporters around 8:15pm on Thursday, he claimed results
collected by his supporters showed his mother won the election with the table clock symbol.
"I went to the returning officer's office. Why is he delaying the results? He must publish the results quickly," he said.
Voting in the Gazipur City Corporation (GCC) election concluded with no reports of violence amid tight security measure on Thursday.
Beginning at 8 am, the voting continued till 4 pm without any break. Counting of votes began shortly after the voting ended.
Early voting has been peaceful and the law and order situation is also good, said Zayeda Khatun, an independent mayoral candidate in the Gazipur City Corporation (GCC) elections.
She made the remark while talking to reporters after casting her vote at Kanaia Government Primary School polling station around 10 am.
There has been no complaint so far against the use of Electronic Voting Machines (EVMs), she said adding "I am hopeful about my victory in the election.'
Meanwhile, Gazipur City Corporation's (GCC) former mayor Jahangir Alam also cast his vote at the same polling station with his mother.
Eight candidates are contesting for mayoral posts in the election and there are 248 councillors and 79 female councillor candidates.
A total of 11,79,476 voters were eligible to vote and of them, 5,92,762 were men and 5,86,696 were women, and the number of transgender people was 18.
A total of 13,000 law enforcers have been deployed to maintain law and order during the election, said Commissioner of Gazipur Metropolitan Police (GMP) Molla Nazrul Islam on Wednesday.
Twenty platoons of Border Guard Bangladesh (BGB) members have been deployed alongside 30 teams of Rapid Action Battalion (Rab) and Ansar members, said Returning Officer Faridul Islam.