Bangladesh, Bhutan agree on DFQF access of few goods
Dhaka, Thimphu sign five bilateral instruments
---
Sunday, 14 April 2019
---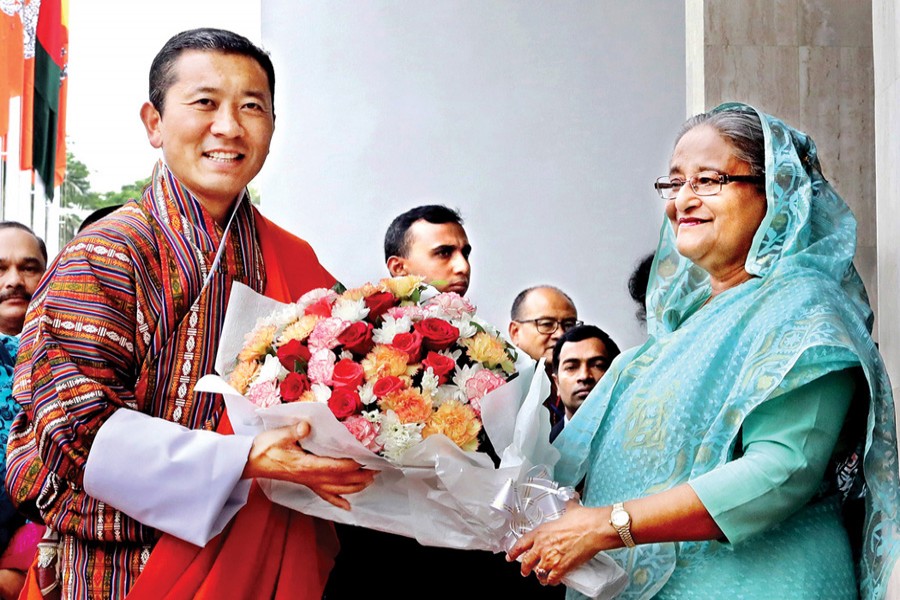 Bangladesh and Bhutan agreed on Saturday in principle to work on duty- and quota-free access of a number of goods of the two counties to each other's market for mutual benefits, reports UNB.
The issue was discussed at the official bilateral meeting held between Prime Minister Sheikh Hasina and her Bhutanese counterpart Dr Lotay Tshering.
Bhutan sought duty- and quota-free access of 16 products, while Bangladesh sought that of its 10 items, said Foreign Senior Secretary M Shahidul Haque while briefing reporters after the meeting at the Prime Minister's Office.
"Bhutan sought the duty-and quota-free access of 16 goods to Bangladesh market. Our Prime Minister said she'll consider it. It's expected that it'll happen," he said.
Shahidul Haque said the Bangladesh, Bhutan, India and Nepal(BBIN) initiative was also discussed at the meeting.
Though all the countries signed the BBIN initiative, Bhutan is yet to place any proposal to ratify the initiative of sub-regional connectivity in South Asia.
He said Bhutan also showed interest to hire Bangladeshi specialist doctors to meet up demand of such physicians to improve its health sector.
Meanwhile, Bangladesh and Bhutan on Saturday signed five bilateral instruments to enhance cooperation on inland waterways, health, agriculture, tourism sectors and Public Administration Training Centres.