BB to launch 'interoperability' of digital finance by June next
Central banker tells InM-UNCDF roundtable
---
FE Report | Friday, 27 October 2017
---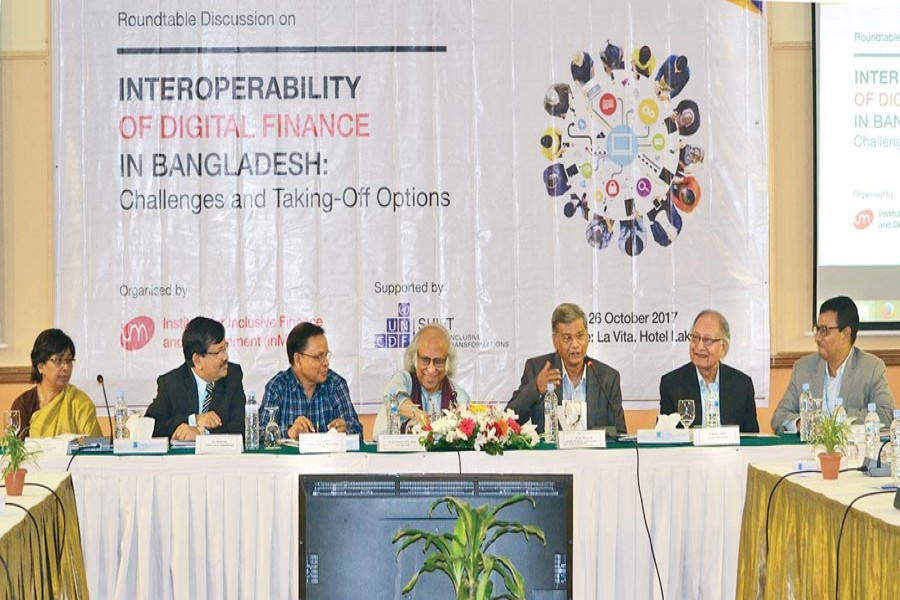 State Minister for Finance and Planning M. A. Mannan speaking Thursday as the chief guest at a policy roundtable on 'Interoperability of Digital Finance in Bangladesh: Challenges and Taking-Off Options' organised by InM and the United Nations Capital Development Fund at a hotel in Dhaka
The central bank will launch an "interoperability" system by June next to facilitate transactions between core banking solutions and mobile financial services, a top Bangladesh Bank official said Thursday.
Speaking at a roundtable, Bangladesh Bank Executive Director Subhankar Saha said the mechanism under which cash can be transacted from banks to mobile financial service providers would also be operational in a limited number of banks by December this year. This will help distribute cash of the government-run social safety net programmes across the country.
"We sat with banks and MFS providers to develop interoperability mechanism of MFS and CBS, groundwork will start next month, the service will be fully functional by June 2018," he said.
He was speaking at the policy roundtable, jointly organised by Institute for Inclusive Finance and Development (InM) and Shaping Inclusive Finance Transformation (SHIFT) Bangladesh under the United Nations Capital Development Fund (UNCDF) held at a hotel in Dhaka.
Mr Saha said the interoperability of internet banking would also go live on November 02.
He expressed the hope that the central bank is going to achieve the goal of unified payment interface, which has access to all available financial services from one single account.
The central banker said as the risk associated with each platform differs from each other, it is "very essential" to define a consistent set of oversight principles for managing the risk that may arise in connection with the interoperability of different types of platform.
He said the vulnerabilities in payment platform, network and mode of interoperability will continue to be the target of cyber attackers and defending these resources remain the focus of every organisation.
"So educating ourselves and the end users will always be on top of the list to combat the cyber attacks," he said.
General Manager of Payment Systems of Department at Bangladesh Bank Lila Rashid said that the central bank has discussed the issue of interoperability with MFS providers and all of them are positive about the interoperability mechanism.
"Establishing the interoperability system needs huge investment and we will find a solution to this, but we will do this," she said.
She said it would require huge investment for building infrastructure for introducing interoperability of digital financial services (DFS), the central bank welcomes foreign and local investment in this sector.
She also said that digital hundi is a great concern for the central bank because the banking sector is now moving towards that system that requires less cash than the norm.
Presenting background paper on the topic, Executive Director of InM Mustafa K Mujeri said there must be partnership among mobile network operators, their regulators, financial service providers and their regulators to introduce a fully-functional interoperability across different payment services providers.
"Three functional elements will have to come together for effective interoperability: arrangement governance, business model and technical integration," he said, adding that much focus is placed on technical interconnections, two other elements need attention.
He also stressed the need for a definition before introducing the service as there is a lack of common definition of interoperability resulting in confusion.
He urged the central bank to facilitate new market entry and encourage the growth and expansion of non-traditional financial service providers in a compliant and secure way.
Speaking as the chief guest, state minister finance and planning M. A Mannan said that technology has advantage for the less-privileged people.
He urged the regulators to ensure equality and level-playing field in technology use.
Speaking as the chair, Qazi Kholiquzzaman Ahmad urged the regulator to increase monitoring over the MFS and digital financial service providers.
He alleged that there is no competition as one or two players share more than 90 per cent of mobile financial services.
"MFS providers in our country are charging much higher fees than those in the neighbouirng countries for the similar services," he said.
Rajeev Kumar Gupta, programme manager of UNCDF, Md. Ashraful Alam, country project coordinator of SHIFT, Arijit Chowdhury, additional secretary at Financial Institutions Division of the ministry of finance spoke at the roundtable, among others.