Gazprom gets NoA to drill three Bhola wells
M AZIZUR RAHMAN | Friday, 13 August 2021
---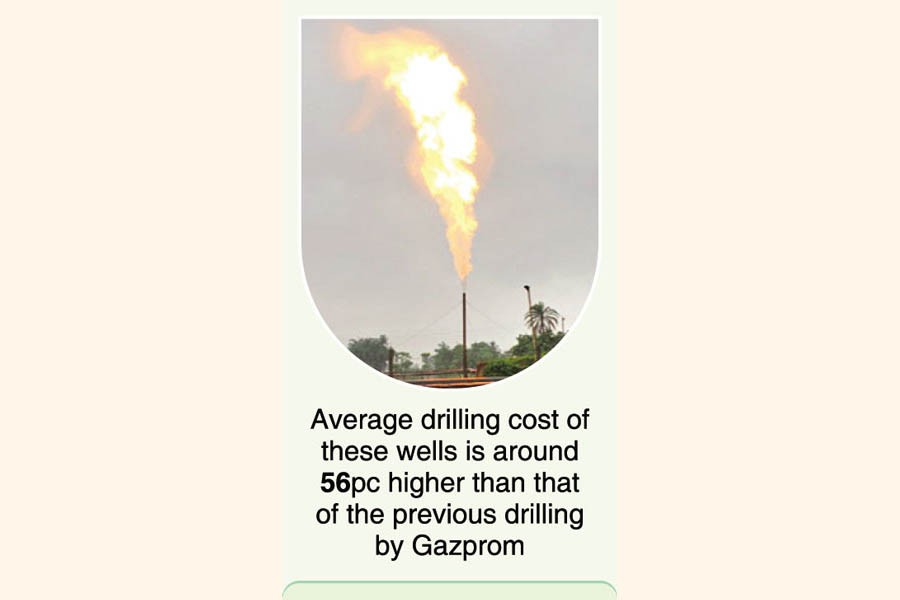 Russian energy giant Gazprom has obtained a notification of award (NoA) to carry out the drilling of three more onshore gas wells at Bhola island.
"We issued an NoA to Gazprom last month and a final deal is expected soon," Bangladesh Petroleum Exploration and Production Company Ltd (BAPEX) managing director Mohammad Ali told the FE on Thursday.
Gazprom obtained the contract to drill three wells-Tabgi-01, Bhola North-02 and Illisha-01-at a total cost of $77.18 million (Tk 6.48 billion).
A couple of years ago, the BAPEX discovered Bhola gas field where all the three onshore wells are located.
Sources said the average drilling cost of these wells is around 56 per cent higher than that of the previous drilling by Gazprom by $16.48 million in Bangladesh.
Earlier in May, the cabinet committee on public purchase approved a proposal to award the job of drilling these three gas wells.
Gazprom has been selected for the work under the Speedy Supply of Power and Energy (Special Provision) Act 2010.
The law has a provision of immunity to those involved with a quick fix.
The Russian firm has drilled a total of 17 onshore wells at different parts across the country since 2012.
Meanwhile, energy experts have termed the drilling cost 'unjustified' and 'unrealistic' given the pandemic situation when international oil companies do not have much exploration work in hand.
Rental fees of rig, an important equipment of hydrocarbon exploration, have also fallen drastically as most of the well rigs lie idle globally for inadequate exploration jobs, market insiders said.
When contacted, Consumers Association of Bangladesh (CAB) energy adviser Prof M Shamsul Alam cited the contract with Gazprom as a 'massive theft'.
A vested quarter is involved in pocketing big money, shrugging off the country's interest, he alleged.
It would raise the overall cost and slow down the growth of industrialisation, observed Prof Alam.
"We are an ill-fated nation," he lamented.
Prof Badrul Imam of geology department at Dhaka University said it would not only be expensive but also be undermining the state-run BAPEX.
The BAPEX should have been given the onus of drilling wells at Bhola, which is considered one of the gas hubs after north-eastern Sylhet region, he opined.
It discovered gas at Shahbazpur in Bhola, thus opening up the prospective new gas hub, said Prof Imam.
Besides, well drilling by Gazprom in Bangladesh has a bad track record, he alleged.
Its drilling was faulty in some wells, which were later developed by the BAPEX, the geologist mentioned.