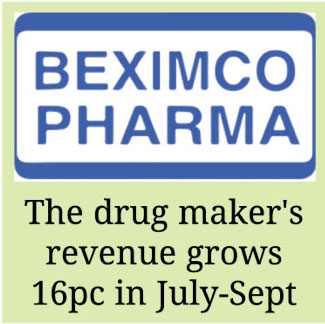 Beximco Pharmaceuticals witnessed a 4.7 per cent drop in net profit in the first quarter (Q1) of the current financial year on the back of higher raw materials costs and sharp depreciation of local currency, despite having registered higher revenue.
The drug maker's profit after tax stood at Tk 1.41 billion in July-September of fiscal year (FY) 2022-23, as against Tk 1.48 billion in the same quarter of the previous fiscal year, according to the company's un-audited financial statements published on Friday.
As a result, the company's earnings per share (EPS) dropped to Tk 3.24 this quarter from Tk 3.28 for July-September of FY '22.
Although profits declined, the company's sales surged as revenue grew almost 16 per cent year-on-year to Tk 9.79 billion in Q1 of FY '23, according to the financial statements.
"We are pleased to report continued momentum in revenue growth this quarter, highlighting the strength of our underlying business growth," said Nazmul Hassan, managing director of Beximco Pharma, in a filing with the London Stock Exchange where the company is also listed.
"However, as indicated in the recent announcement of our full-year results, we have also seen the impact of a number of macroeconomic headwinds on the bottom line over the period, with particular difficulty caused by challenging exchange rates," said Mr Hasan.
"While we expect this situation to remain throughout this financial year, we look to find operational efficiencies in the business and maintain our commitment to growing our portfolio of products and delivering high-quality, affordable medicines in both the domestic and international markets," he added.
The profits were also influenced by higher finance costs and higher selling and marketing expenses during the period under review.
As such, its finance costs jumped almost 90 per cent year-on-year to Tk 311 million during the period due to sharp depreciation of the local currency against the US dollar.
The company's cost of goods sold also rose by 22 per cent to Tk 5.36 billion in July-September of 2022.
Listed in 1986, the drug maker's share closed at Tk 154.60 on the Dhaka Stock Exchange (DSE) on Thursday, losing 0.45 per cent over the day before.
The company declared a 35 per cent cash dividend for the year ended in June 2022. It also provided a 35 per cent cash dividend in FY 2020-2021.
Its paid-up capital is Tk 4.46 billion and authorised capital is Tk 15 billion while the total number of securities is 446.11 million.
As on October 31 this year, sponsor-directors own 30.14 per cent stake in the company, institutes 22.25 per cent, foreigners 28.56 per cent and general public 19.05 per cent, the DSE data show.
Beximco Pharma, which began its journey in 1976, is one of the leading manufacturers and exporter of medicines. Its state-of-the-art manufacturing facilities are certified by global regulatory authorities of USA, Europe, Australia, Canada, GCC and Latin America, among others and it has a geographic footprint in more than 50 countries.
The pharmaceuticals sector of the country, which meets 97 per cent of the local demand, witnessed a 12.1 per cent compound annual growth over the last five years. The market size was Tk 275 billion as of June 2021, according to an analysis of UCB Asset Management.
Medicine exports stood at U$188 million in 2021-22, up more than 11 per cent from $169 million a year earlier, data from the Export Promotion Bureau showed.