---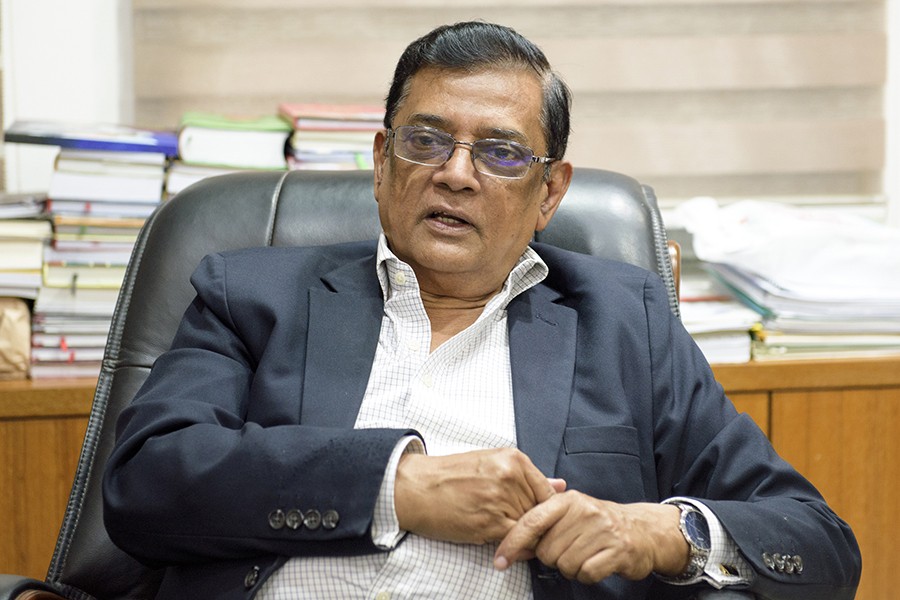 Dr. Zaid Bakht — FE Photo
Agrani Bank has topped in deposit growth among its peer state-owned banks in 2019 mainly due to improvement in its client services.
Its deposit growth surged to a new high at 11.3 per cent in 2019, while Rupali Bank at 6.4 per cent, Sonali Bank at 5.6 per cent and Janata Bank at 2.3 per cent, according to official statistics.
Its loans and advances also edged up by nearly 18 per cent in the year under review.
Consequently, its net interest income increased in 2019 at Tk. 6.32 billion and profit after tax at Tk 1.07 billion.
"Actually, we're growing each year as we're focusing on the improvement of services through innovations, optimal using of cutting edge software and automation, " Dr. Zaid Bakht, chairman at the Board of Directors of the Agrani Bank Limited (ABL) told The Financial Express recently at its HQs.
The main criticism of the state-owned banks is poor services they render to the clients. "Customer services have improved to a large extent following uses of the technology, ensuring proper career ladder and motivating our people," Dr. Bakht, also a development economist, said.
"All 958 branches have now real-time transactions and we're the first to introduce the same among the state-owned commercial banks," Dr. Bakht continued.
ABL clients now receive SMS after each transaction, at its all branches across the country. This has brought a dramatic change on the landscape of the services.
Such automation has attracted many big entrepreneurs having large network across the country.
"We're now getting benefits of the real-time transactions as many big groups have come back to us following introduction of the services."
"Pran Group, for example, has dealerships across the country. They had problems to collect money from remote areas as many private banks do not have branches there. They're now taking our services…even exploring other opportunities ...", Dr. Bakht went on.
The ABL is the biggest bank in foreign remittance transactions among the state-owned banks. And it is the second biggest bank in terms of transacting remittances among all banks in operation in Bangladesh.
The ABL has launched a unique remittance mobile app for Bangladeshi expatriate considering restricted movement of people in abroad as a result of the corona virus outbreak.
"We've installed mobile app for the expatriates, especially in big market like Singapore, so that they can send money home sitting in their own place at abroad."
On the receiving end the bank has expanded its network through agent banking.
"We've built many agent banks across the the country to expedite remittance services. Even we've tied up with mobile financial service providers to make a hassle-free and quick remittance transactions for the people who receive the remittence," Dr. Bakht said.
Its foreign remittance transaction has upped by over 17 per cent than that of 2018.
Earlier, the ABL had little presence in the international trade even few years back as big groups had switched to private and foregn banks. Many of them have now come back as they get satisfactory and competitive services.
"Now we've strong footing on the international trade as a significant transaction relating to both export and import financing is being met by the bank."
He said this was not an easy task. Many clients had left the banks earlier on the grounds of its poor services. He said many of them have come back inclduging Javer Jubair, Mohamaddi Group, Noman Group and so on.
The ABL financed many power and infrastructure projects including the Padma Multipurpose Bridge. Only in Padma Bridge it has arranged investment of a significant amount of fund.
The NPL recovery of the Bank, however was recorded 146 per cent in 2019.
Its operating profit rose to Tk 90 billion in 2019. Total asset stood at Tk 8.5 trillion.
ABL with now Tk. 20.7 billion paid up capital was incorporated as a state-owned bank in 2007 under companies act, 1994. It emerged as nationalised commercial bank following Bangladesh order 1972. Former Habib Bank and Commercial Bank renamed as agrani bank.