All sectors of listed securities on Monday witnessed price correction on Dhaka Stock Exchange (DSE) following selling pressure created by nervous investors.
Of the major sectors, telecommunication witnessed the highest price correction as the share price of Grameenphone, the largest market capitalisation-based company declined 4.35 per cent or Tk 11.
Of other major sectors, financial institutions declined 3.2 per cent, engineering 2.8 per cent, bank 1.6 per cent and pharmaceuticals & chemicals 0.9 per cent.
DSEX, the core index witnessed free fall on the day.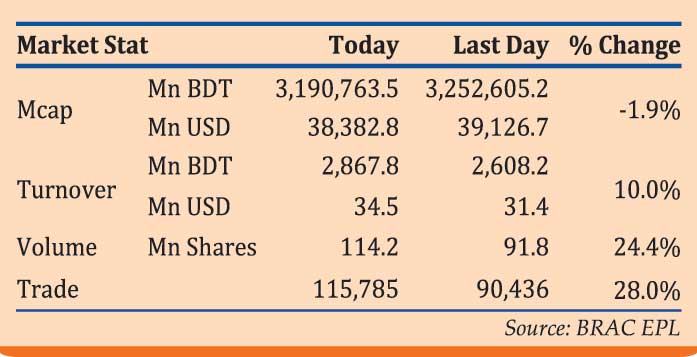 At the end of the session, the DSEX settled at 4123.48 points with a loss of 2.11 per cent or 88.98 points.
According to a market review of EBL Securities, investors went for selling from the first hour and continued till the end, which led the benchmark index to tumble below 4,200 points.
"Investors have been suffering from lack of confidence for a long time as major macroeconomic indicators were hitting investors' confidence hard," said the EBL Securities.
Of total issues traded, only 21 advanced, 313 declined and 20 were unchanged on the DSE.
The turnover stood at above Tk 2.86 billion which was 10 per cent higher than that of previous session.
According to International Leasing Securities, the bearish vibe in the market kept the investors worried as well as provoked them to go for selling offs to avoid further losses on their portfolios
The shariah based index DSES declined 2.12 per cent or 20.18 points to close at 929.96 points.
The DS30 index comprising blue chip securities closed at 1387.78 points with a loss of 1.97 per cent or 27.92 points.
The market capitalisation of all sectors of listed securities declined ranging from 0.3 per cent to 4.6 per cent on the premier bourse.
Of the top turnover leaders, LafargeHolcim Bangladesh posted a turnover of above Tk 190.32 million followed by ADN Telecom Tk 108 milliom, Ring Shine Tk 99.38 million, Khulna Power Company Tk 95.34 million and Beacon Pharmaceuticals Tk 92.87 million.
Investors' activities were mostly concentrated on pharmaceuticals & chemicals sector which grabbed 16.2 per cent of the market turnover followed by engineering 14.4 per cent, and textile 9.8 per cent.